The Swiss Alps
12 days hiking the alps in the Jungfrau & Zermatt region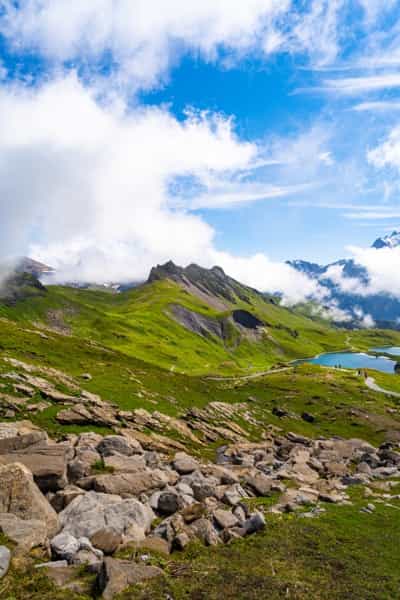 The Swiss Alps
Traveling to Switzerland for two weeks before I started the fall semester was the perfect way to close an incredible summer. Most of my time was spent in the alps, with a few days in the city of Zürich and Bern. In this photo story I'm going to cover the Jungfrau region, Zermatt and detail how to get to the hike, when to start and what is needed, as well as some thoughts on the regions. In the collection for Switzerland, I will cover cities and a photo story dedicated to traveling, accommodation and a breakdown of costs.
Hiking the Jungfrau & Zermatt alps
Jungfrau Region
Home to the Top of Europe
Jungfrau Region
Home to Lake Bachalpsee and the Top of Europe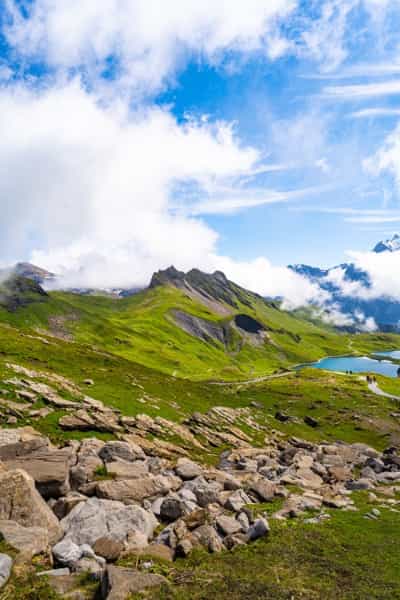 Grindelwald First
7.86 miles ・ 9,500 ft in elevation ・ 5 hour hike
The region of Jungfrau is home to Lake Bachalpsee, among other many incredible hikes. The hike is very easy and depending on your level of fitness, you can reach the lake in as little as 40 minutes. I decided to keep going until it was time to get back to Grindelwald. Every new mile was better than the last. This is a must, in my opinion and if you have more time, keep going until you reach the next transit station that is in Grosse Scheidegg. There's bus transportation from Grosse Scheidegg, back to Grindelwald.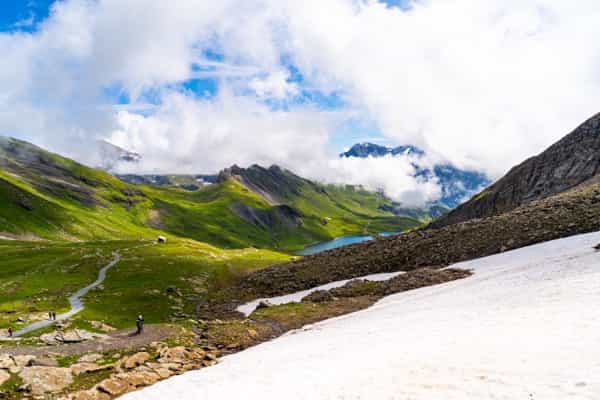 Getting to Grindelwald First
The journey to Grindelwald First starts in Grindelwald itself. A lot of people make Interlaken their base, but I find Interlaken to be more expensive than Grindelwald and not as convenient. I visited Interlaken and found it to be inconvenient, due to its size and you have to take a train to Grindelwald if you want to do this hike. My suggestion is to get accommodation in Grindelwald and make that your base. It's small enough that you can walk anywhere in Grindelwald and it's not as crowded as Interlaken.

The cable car station that takes you up the mountain is well marked in the village of Grindelwald. My suggestion is to get there at 9AM when it opens, buy your ticket and spend all day in the mountain. The last cable car comes down at 5:30 PM during the summer. Check yourself for the times of operation and make sure there's enough time to catch the cable car back to Grindelwald.

The cost of the round trip ticket is CHF 64, or about $70.00 USD. My recommendation is to buy the half-fare card when you get to the airport, as this applies to most forms of public transportation in Switzerland. The half-fare card pays for itself if you're in the country for more than a few days. Switzerland is very expensive and this applies to transportation. Buy the half-fare card, you'll thank me later.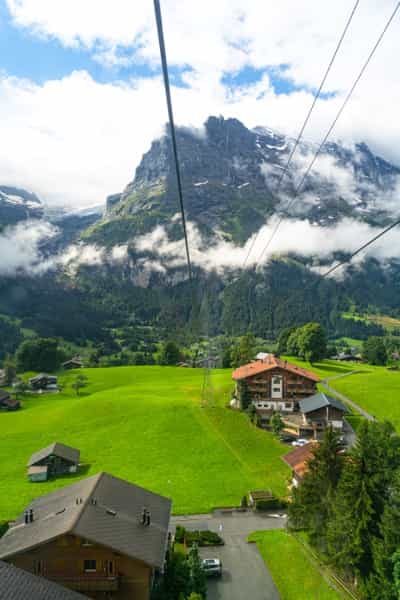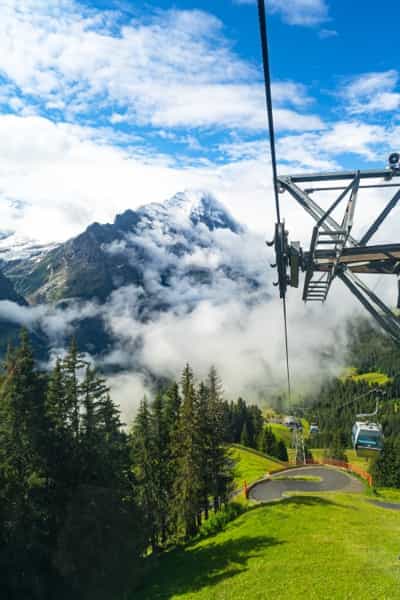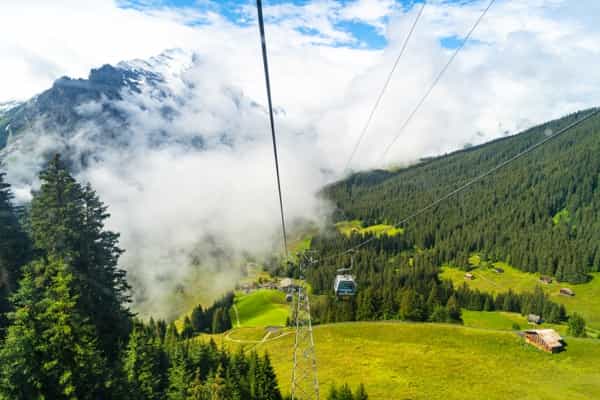 Dealing with altitude
Everyone deals with attitude differently and where you're coming from matters. I live at sea level and hiking at 10,000ft above sea level at the peak is noticeable.

What made the difference is the time I spent acclimating to the altitude. My first full day in Grindelwald was cloudy and rainy. It wasn't ideal but I dedicated this time to getting ready for the following day and I believe this time helped minimize the effects of altitude.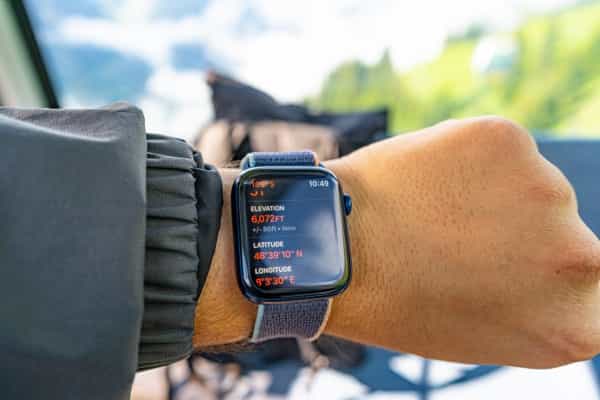 Stories
Follow me on Instagram: @ricardo_del_toro
📍 Grindelwald
Journey to Grindelwald First
The journey to Grindelwald First takes about 25 minutes and makes a few stops along the way. The views are magnificent. The journey to the station is an experience in itself.
📍 Grindelwald First
Reaching the station
The station has an observation deck next to a restaurant. This doesn't take too much time and it provides incredible views.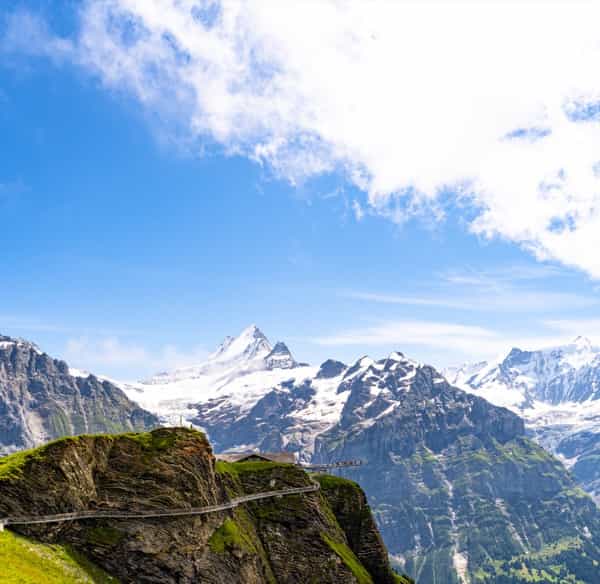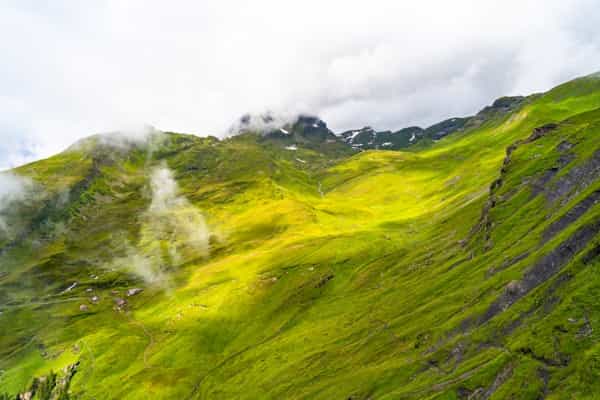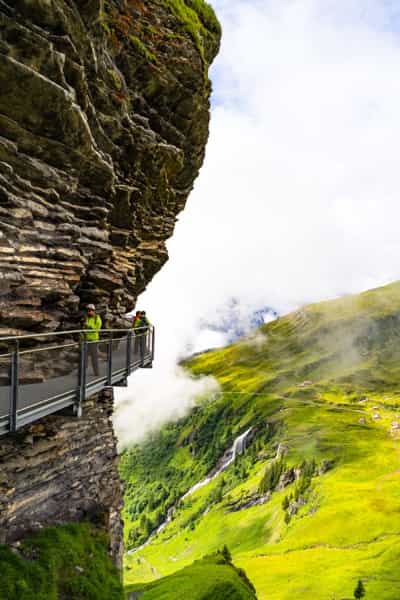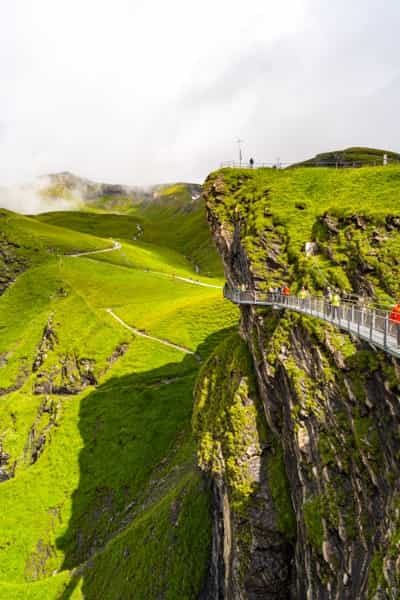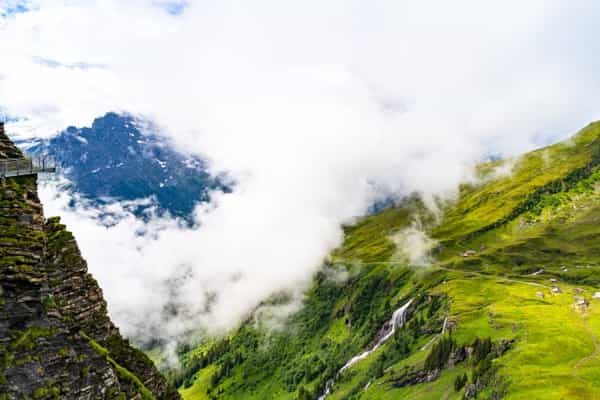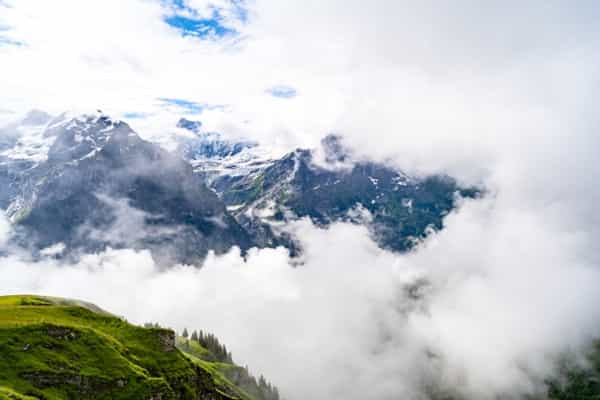 Lake Bachalpsee
Lake Bachalpsee is a must if you're in this region of Switzerland. It's very easy to do and only takes about 40 minutes to reach the lake. My advice is this: keep hiking until you reach Grosse Scheidegg. I didn't make it to Grosse Scheidegg but the view in that direction was incredible. Once you reach Grosse Scheidegg, there's a bus that connects people back to Grindelwald.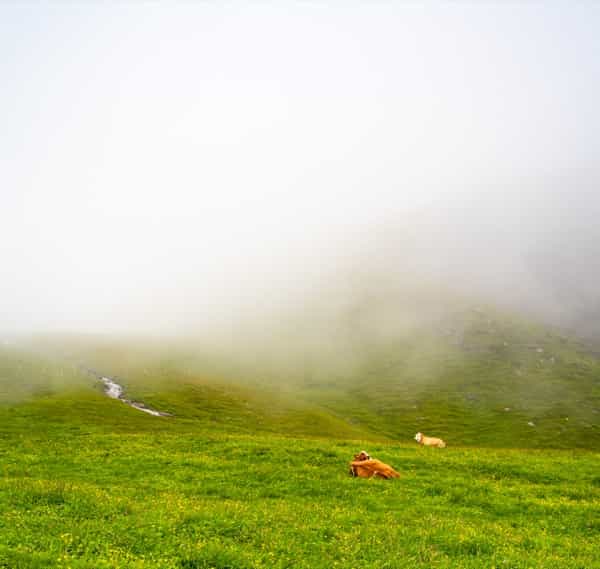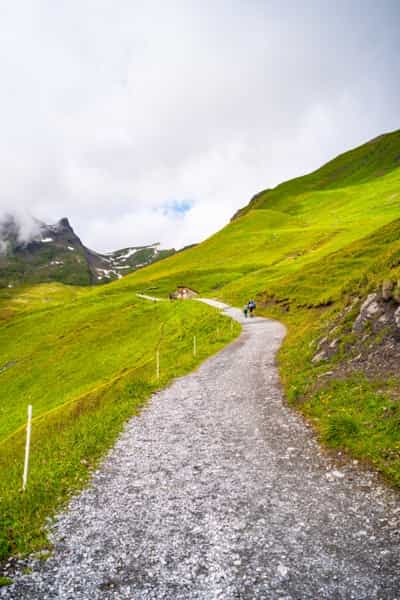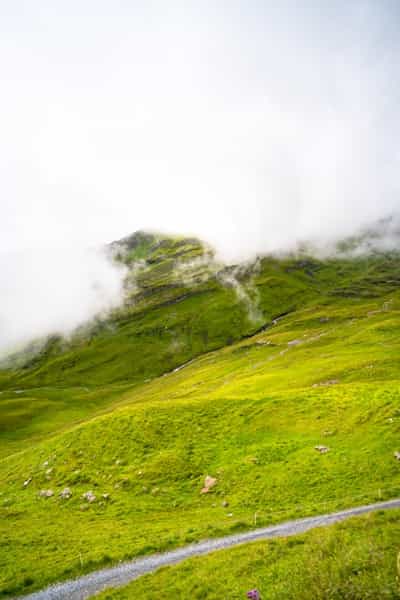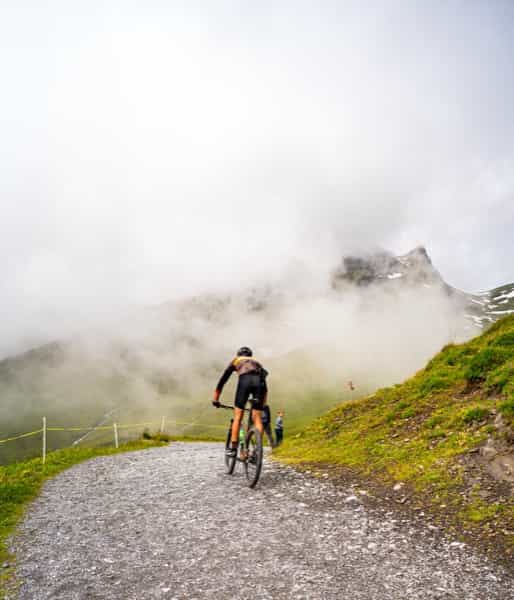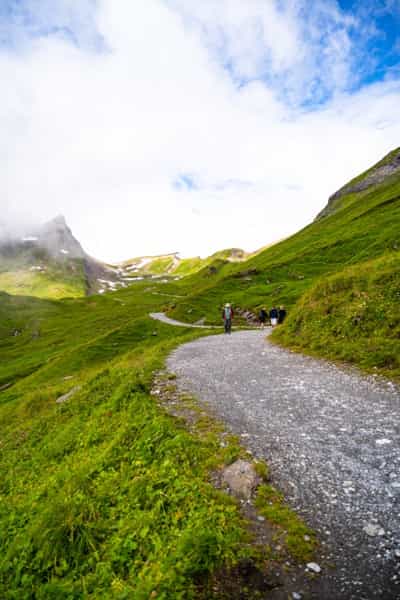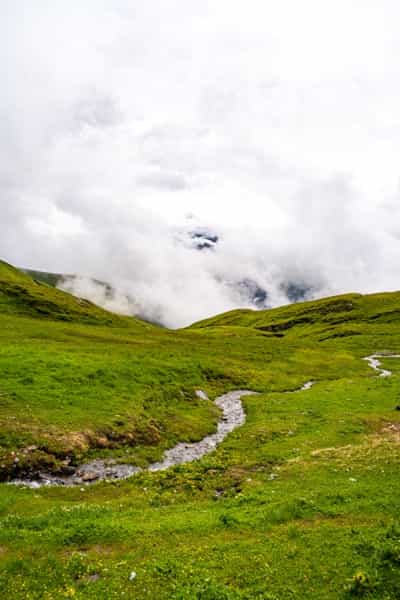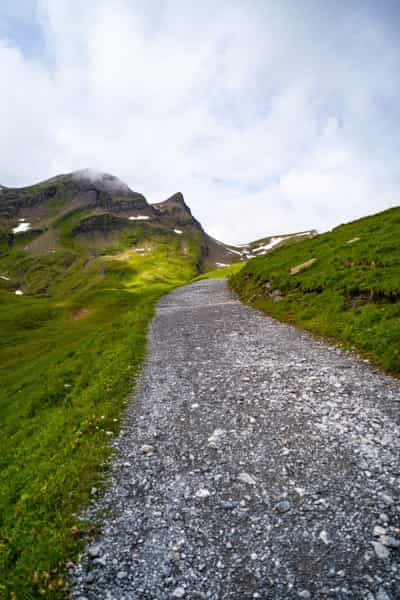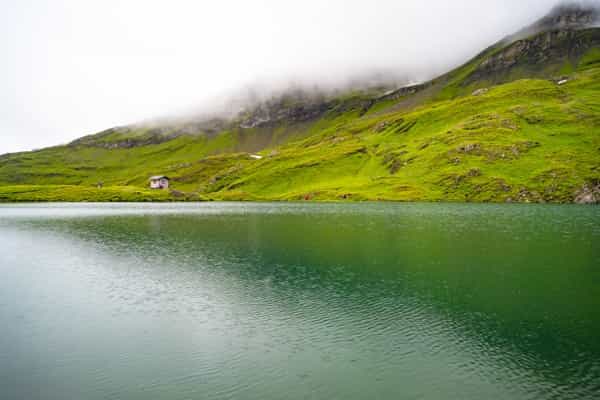 Stories
Follow me on Instagram: @ricardo_del_toro
📍 Lake Bachalpsee
Reaching Lake Bachalpsee
Weather was very unstable on the first day of the hike. I'd make the best of it. It certainly gave the photos a different perspective.
📍 Lake Bachalpsee
Heading back to the station
It was getting late, cold and rainy. This was time to start heading back to the station to get a cable car to the village.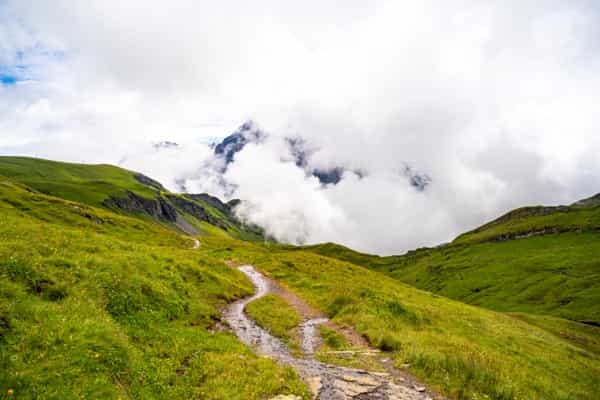 Day 2
Weather in the alps is very unpredictable and being okay with this reality is important. My take is this: make the best of it, weather adds something unique to a photograph. I actually took the cable car up to the mountain twice during this trip. The weather was much better the second day and I believe the best photos of this trip were taken on that day.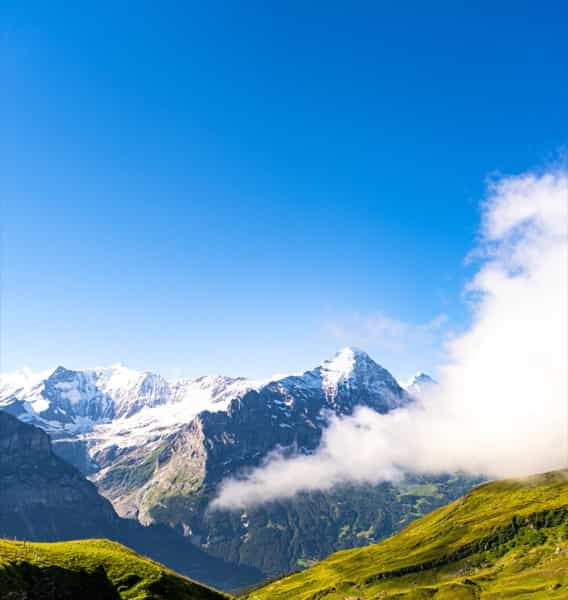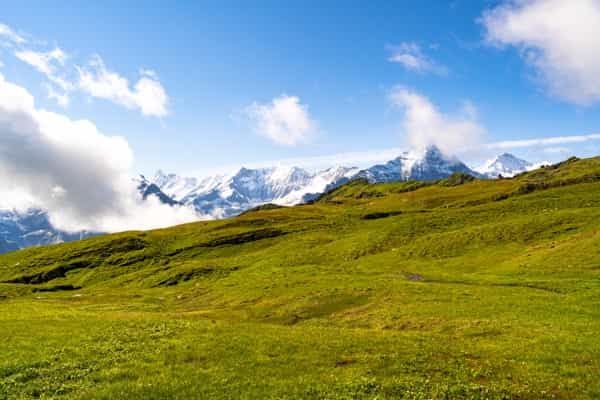 Reaching Lake Bachalpsee
Reaching the lakes for the second time was familiar but it was different. The different weather made it feel like a new place. I arrived at the mountain early in the morning and kept hiking until I had to turn back.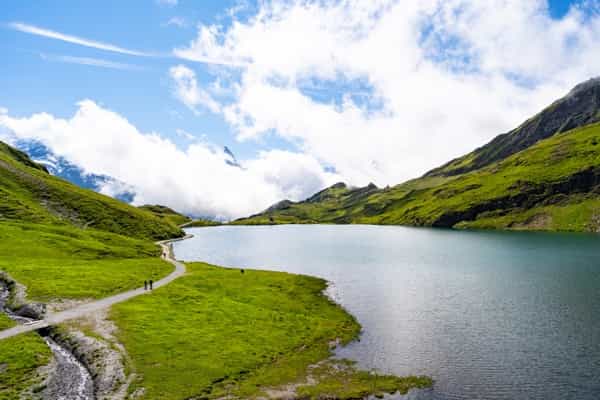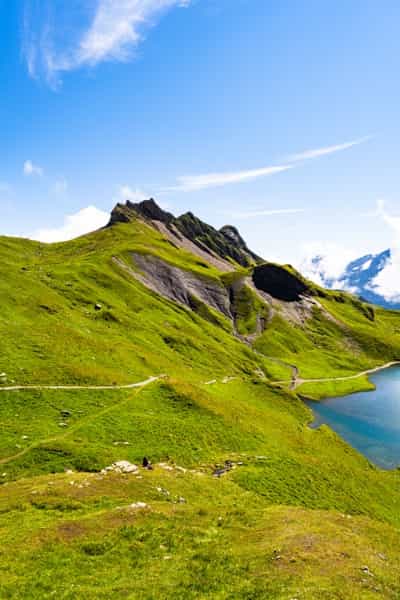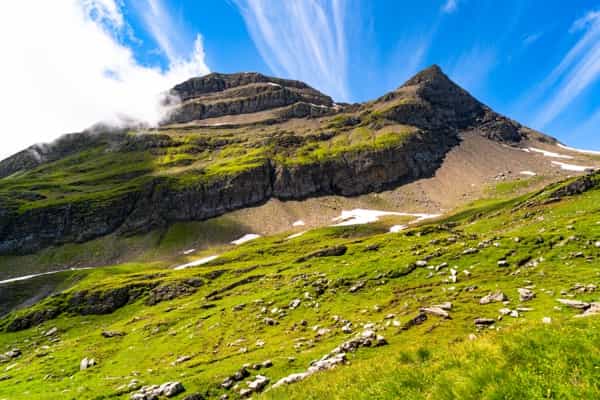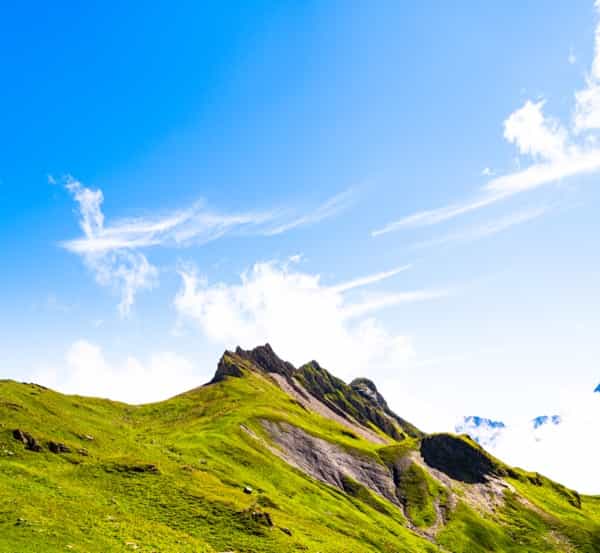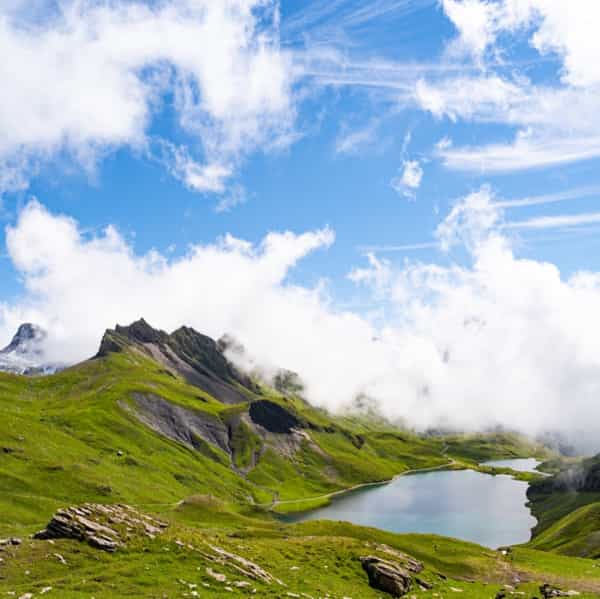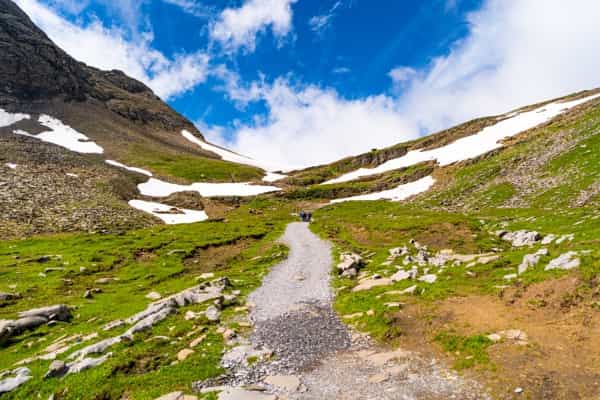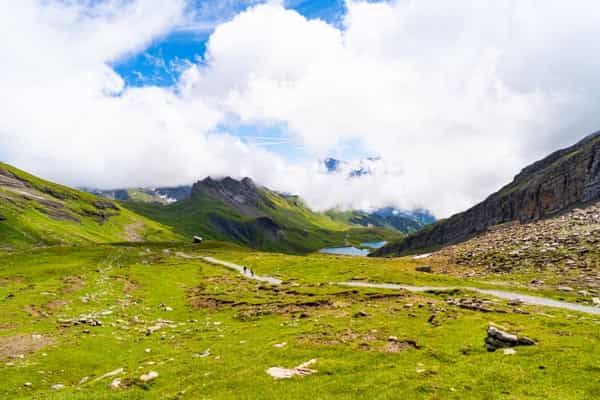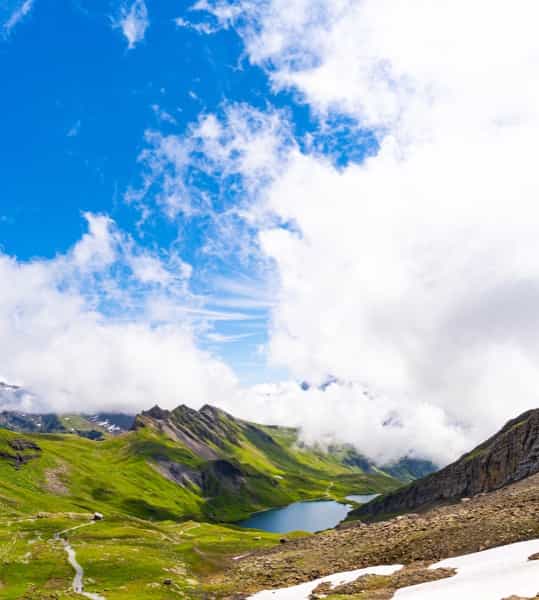 Stories
Follow me on Instagram: @ricardo_del_toro
📍 Top of Lake Bachalpsee
10,000ft above sea level
The peak of this hike was roughly 10,000 ft above sea level and it was noticeable. While challenging at times, the views made up for it.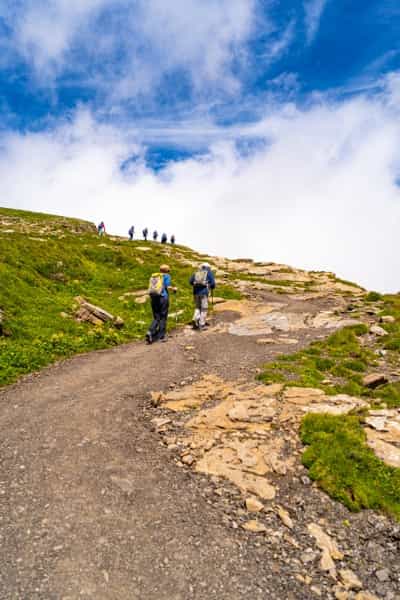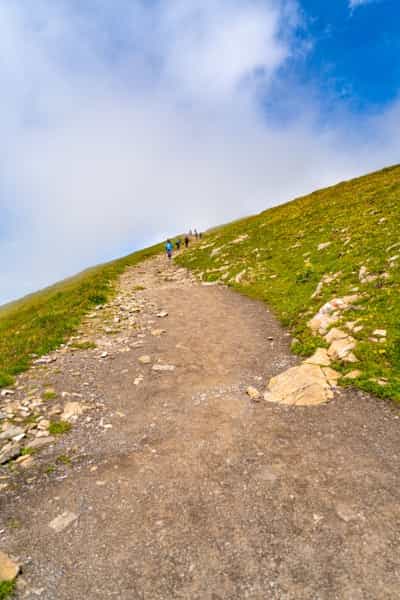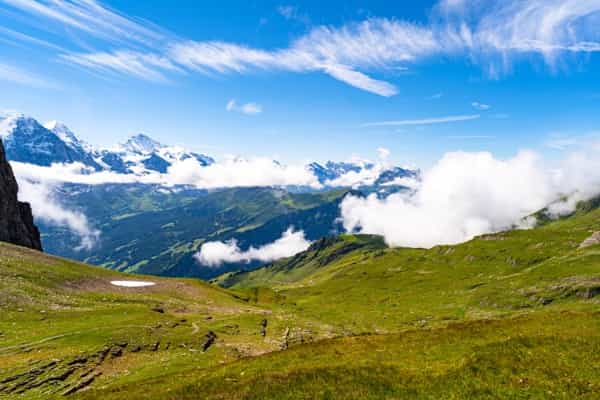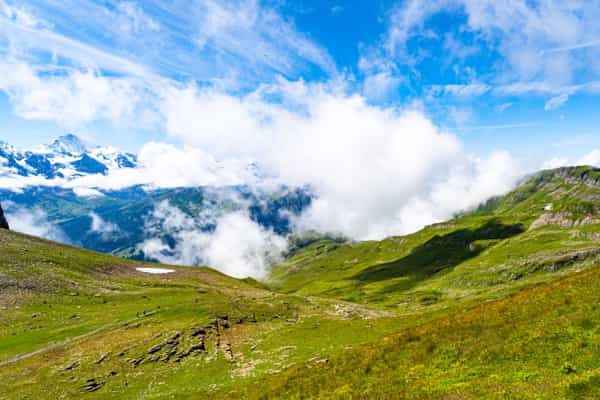 Moving from Grindelwald to Zermatt
My time in the Jungfrau region was quickly coming to an end and I had to get moving to my next stop. Zermatt is home to the Matterhorn and I was excited to reach my next destination. I hiked down to the cable car station, picked up my luggage at the hotel and hopped on a bus to the train station. In Grindelwald I purchased a one-way ticket to Zermatt for CHF 47.10 / $51.00 USD using my half-fare card. If you're going to move around Switzerland, buy the half-fare card. I paid CHF 120 / $130.10 USD for mine and I certainly saved money going this route.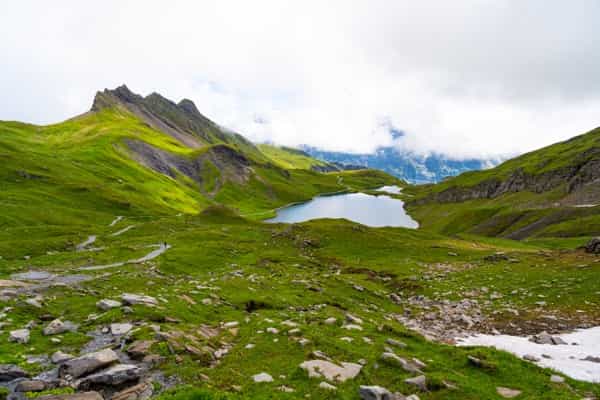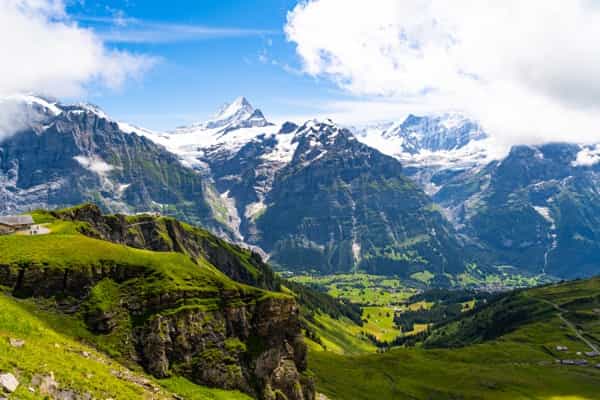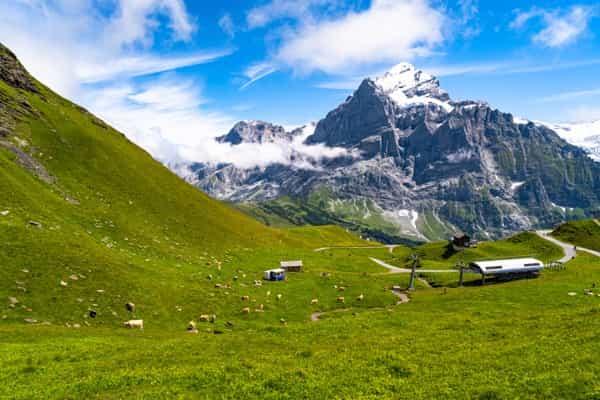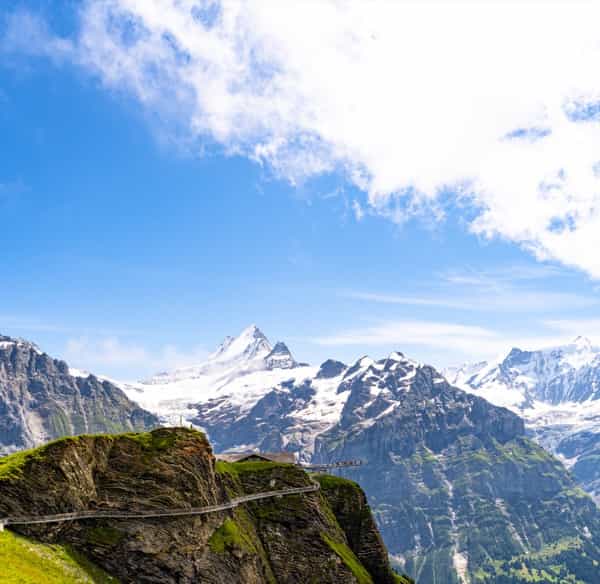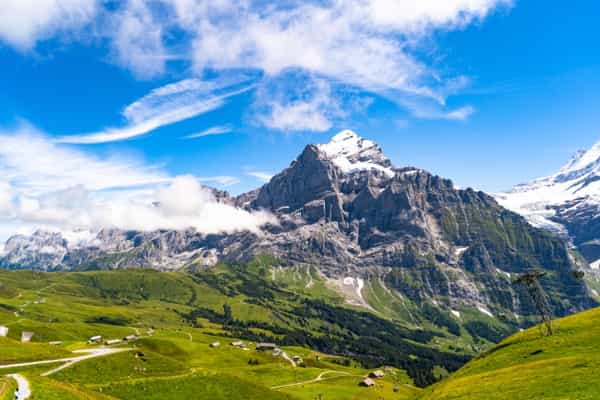 Stories
Follow me on Instagram: @ricardo_del_toro
📍 Stechelberg, Switzerland
❤️🇨🇭🚞
I shot a lot of video with my iPhone and a lot of the video is of me in trains.
📍 Stechelberg, Switzerland
I ❤️ Swiss trains
I simply loved the public transportation system in Switzerland. It was clean, on time and safe.
📍 Stechelberg, Switzerland
Incredible views
The last train that took passengers to Zermatt was special. These train cars were special because they had giant windows that allowed for magnificent views of the valley.
Zermatt
Home of the Matterhorn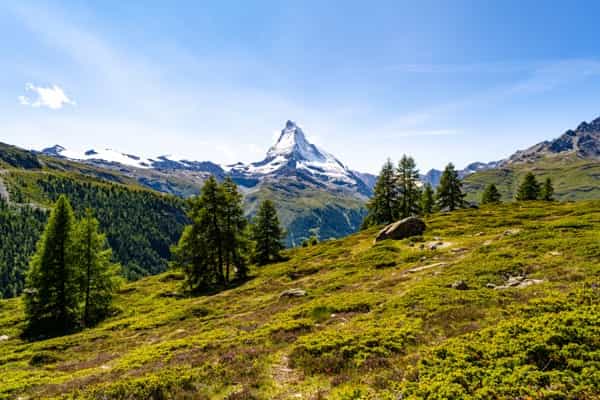 Zermatt
Home of the Matterhorn, the 5 Lakes Hike and other activities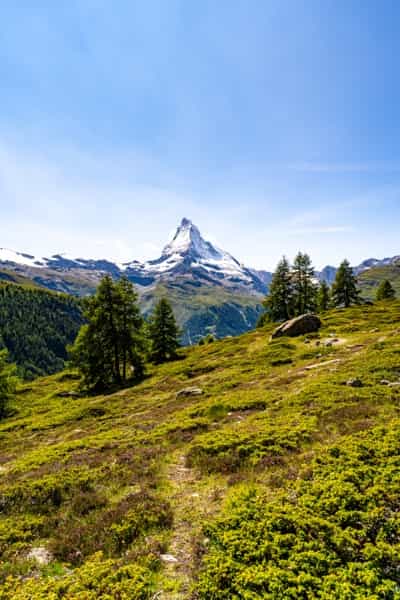 5 Lakes Hike
7.37 miles ・ 7,400 ft in elevation ・ 4 hour hike
The 5 Lakes Hike is a very popular hike in Zermatt. I definitely felt the altitude on this hike, compared to the last hike in Jungfrau. I really only felt this initially, as you climb and oversea a glacier. While I really enjoyed this hike, I must admit that I preferred the last hike in the Jungfrau region. This was a fine hike but I felt it was overrated, and because of the amount of hype it receives, the trail is packed with tourists. If you have the time in Switzerland, do it. If I could go back, I would skip this and spend more time in Jungfrau and other regions that I surely missed.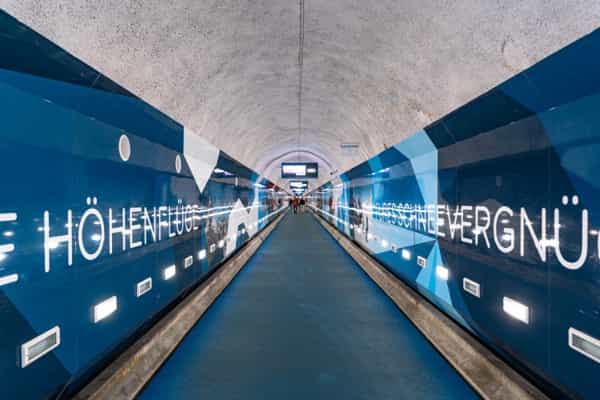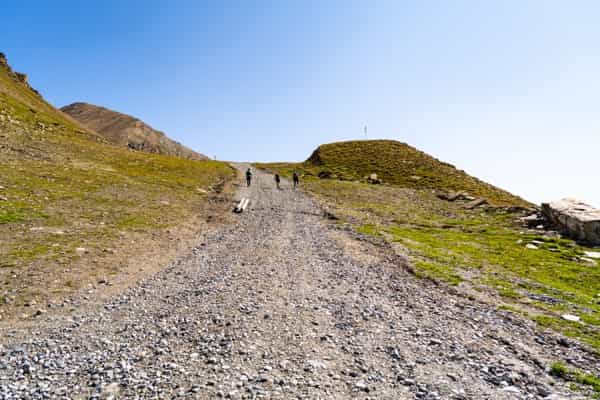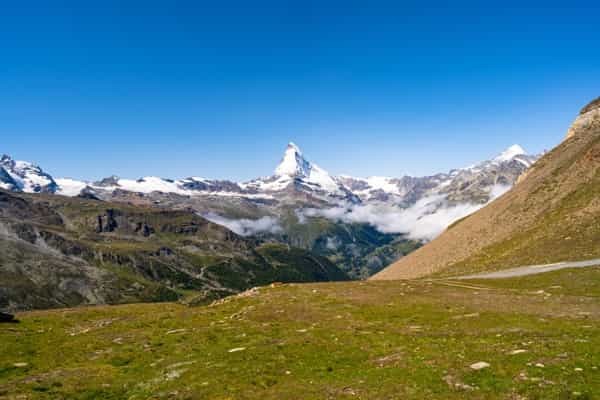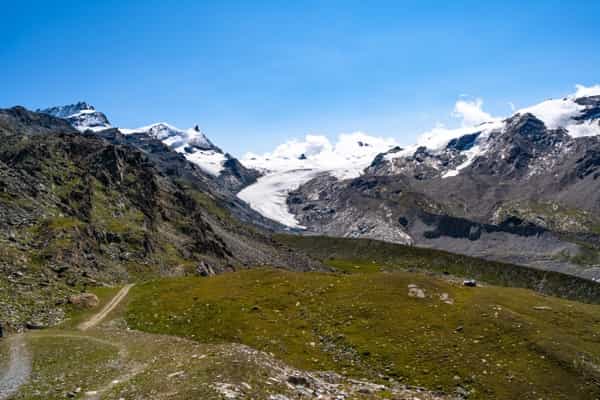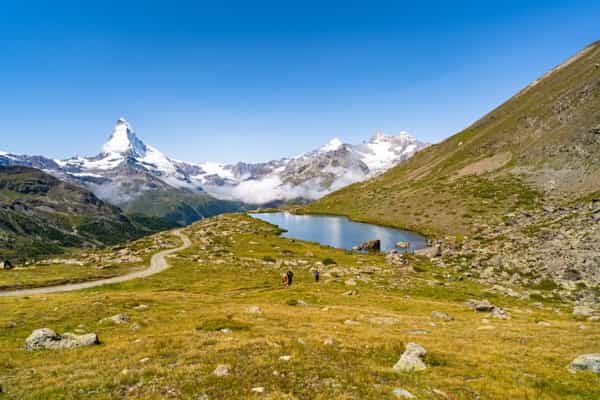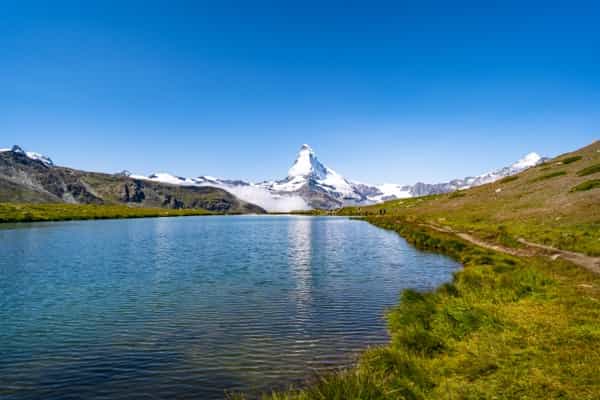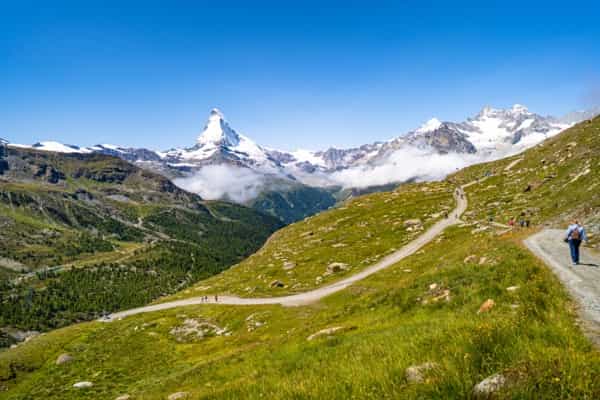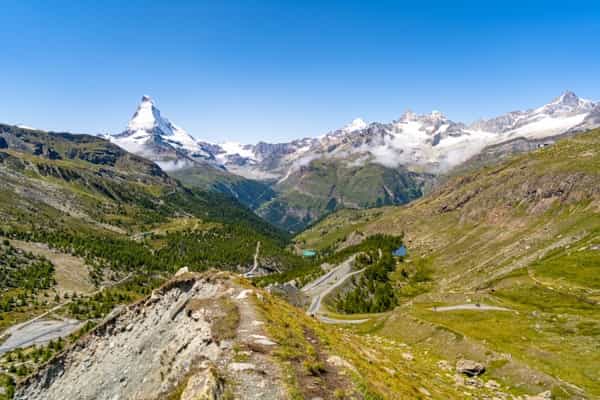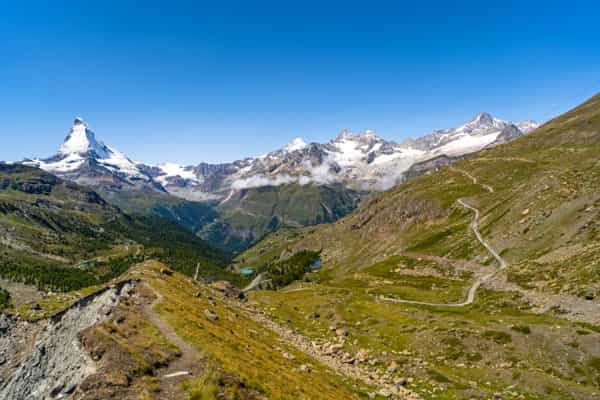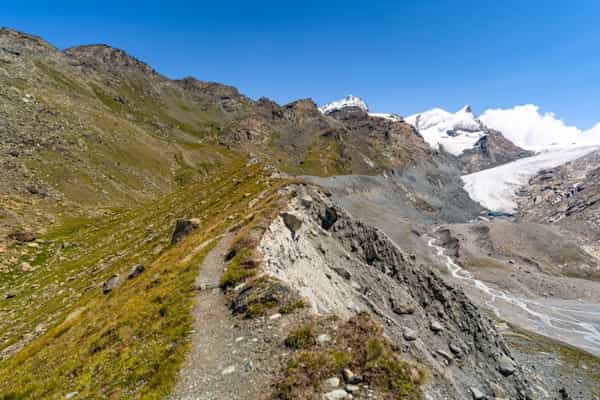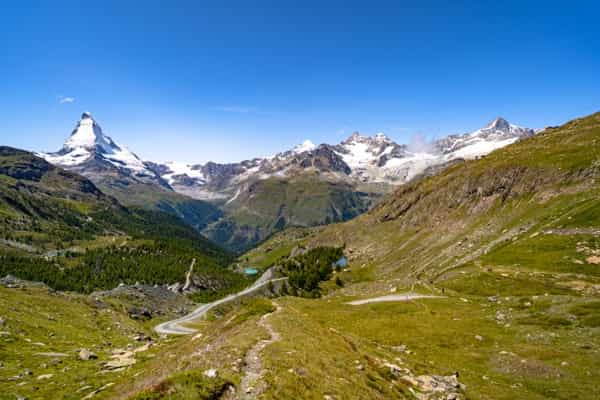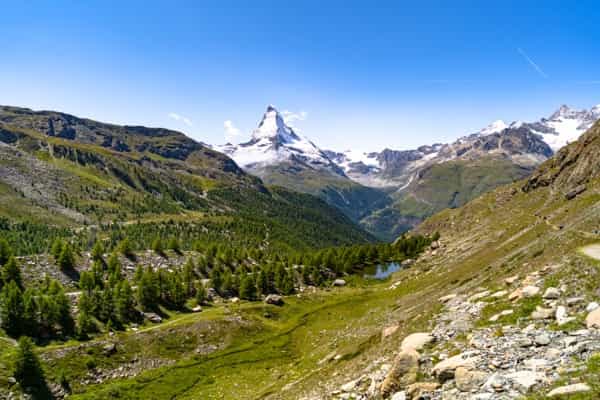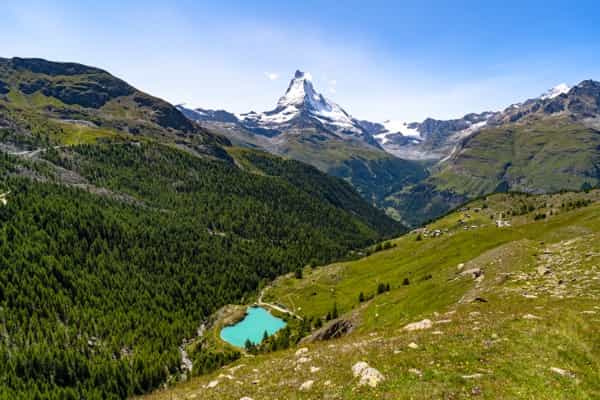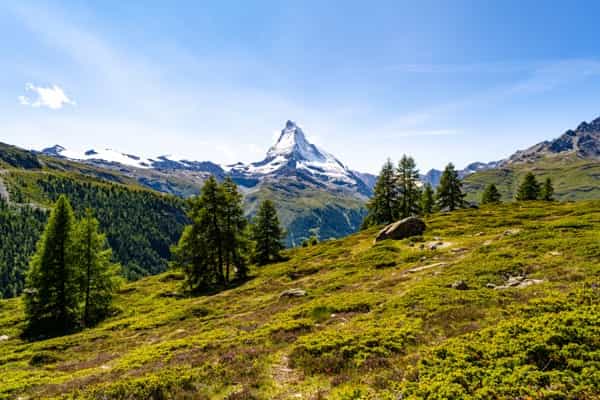 Concluding thoughts
My thoughts about the Swiss alps are not anomalous. They're incredible and I need to go back to the region. My time in Switzerland was very limited, I was only in the country for 12 days. In this photo story I showcased both the Jungfrau region and the area of Zermatt. If I had to pick an area where I'd spend more time, I would do so in the Jungfrau region. It's greener, it gets more sun and it's more of my type of mountain. I found Zermatt and the surrounding region to be very rocky, and while that's interesting I prefer the terrain of Jungfrau.