Santiago de Chile
Exploring the capital city and Las Condes, La Moneda and El Centro.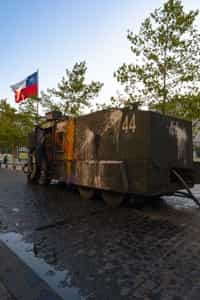 Santiago de Chile
Santiago de Chile is the capital of Chile, where 5.6 million people live. If you're visiting Patagonia, you'll go through Santiago. I suggest dedicating a day or two to the city. The city is beautiful and has interesting areas to check out. La Moneda is the district where government buildings sit and is near their financial district. If you visit Chile in the near future, you will see a city that is tagged with political messages, regardless of the area that you're in. I'm dedicating a section of this photo story to the social movement that Chile is going through.
A modern, economically prosperous and safe city.
Santiago de Chile
My time in Santiago de Chile was limited but it was enough time to leave a good impression of the city. That is despite the conflict that is happening in the entire country, but more so in the capital. I want to mention the conflict in the beginning of this photo story because it's in the news and it has the potential to impact your sentiment and the desire to visit the country. Visit Chile and visit Santiago. You will be fine and if you speak the language, speak with the locals about the movement and why it's happening.
Points of Interest in this Photo Story

Las Condes
Las Condes is a beautiful part of Santiago and one of the wealthier neighborhoods. I happen to be in Las Condes because my hotel was located in Las Condes.

W Santiago
W Santiago is where I spent the night in Santiago. If you're going to splurge on a hotel room, do it in Santiago. Hotels in the southern part of Chile are very expensive and small. I'd do a hotel in Santiago and Airbnb's in the South of Chile.

La Moneda
La Moneda is where the Chilean government maintains all of its ministry offices. The social movement happening in Chile made it difficult to get up close to government buildings, as they were heavily protected by police.

Plaza de Armas & El Centro
In Latin America, cities and towns have what's known as a plaza. Chile calls them Plaza De Armas but it's essentially the center of town where the local temple lives and where people hold events.

Cerro San Cristobal
Cerro San Cristobal is a hill that oversees the city of Santiago. You can walk but there's a cable car available that costs under $5 USD. If your time is limited, watch the clock as this activity takes a lot of time.
Las Condes
Exploring Las Condes, one of Santiago's wealthier neighborhoods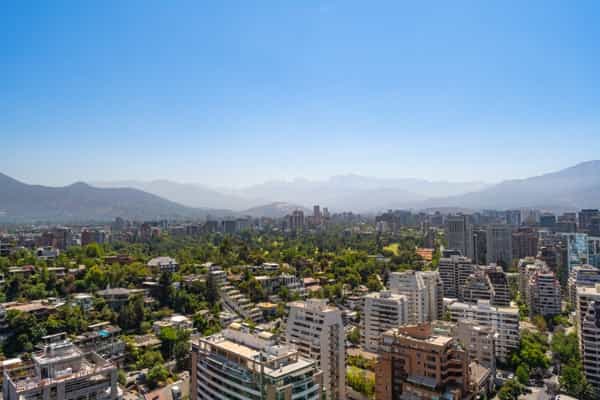 Las Condess
Exploring Las Condes, one of Santiago's wealthier neighborhoods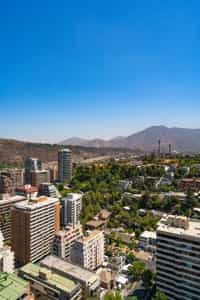 Las Condes
Home of Sanhattan and Chile's Economic Elite
Las Condes is a province in the outskirts of Santiago and it is commonly known in Chile as Santiago for the economic and political elites. Las Condes is home to Sanhattan, Chile's financial district and home to the current president, President Sebastian Pinñera. Las Condes has all the high-end hotel like the W Santiago or the Ritz Carlton, as well as Santiago's most respected restaurants.











Dedicate a full day to Las Condes
I would dedicate a full day to Las Condes and I would recommend you stay in any of the hotels in this area, as there is a lot to do and it's the safest area of Santiago. I missed quite a bit of Las Condes because my time in Santiago was limited. Based on my experience, I would say a full day in Las Condes is sufficient to see the parks, go for a drink and find a good spot for dinner. I personally had lunch at Confitería Torres and I found it to be quite good. I wouldn't say it was a special but it was decent.

Some advice regarding tips in Chile: tips are usually included in the bill and it's 10% by default. If you visit Argentina, make sure to carry cash, as tips are cash only and is not included in the bill.
W Santiago
My experience at the W Santiago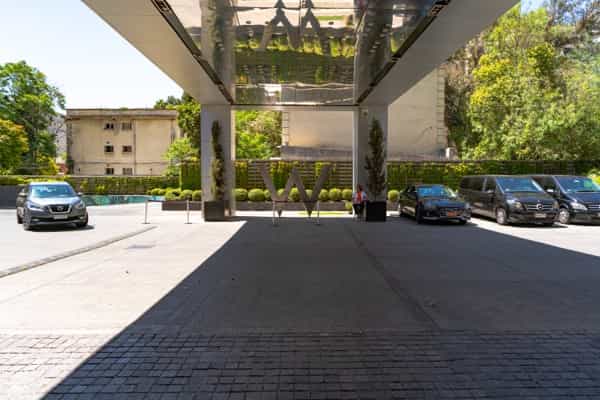 W Santiago
My experience at the W Santiago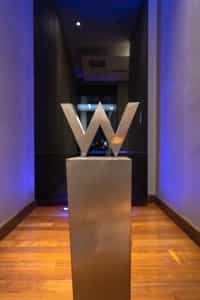 Staying at W Santiago
Staying at the W Santiago was an experience in it of it self. I don't typically stay at high-end hotels because I don't personally see the value in spending $300 a night for a room. However, for me travel and credit cards go hand-in-hand. Last year, my American Express Bonvoy card came up for renewal and I contemplated in closing it. The card is $95/yr and it has a free night at any Marriott property valued at 35,000 points. The W is about $300/night during my dates and it was a no brainer to pay the annual fee and keep the card.
A few thoughts on the property: it's pretty high end and it's located in Las Condes, one of Santiago's wealthier neighborhoods. The experience of checking in to getting your room is fantastic. They treat you really well, offer you drinks as you check in and tell you about the amenities. The coolest amenity is the outdoor pool, located at the top floor with a fantastic view of the city. The room was nice and they were accommodating in my requests. A few nights before check-in I asked for a room with a double-bed, the top floor and early check-in and they delivered. I was satisfied with my stay and I'm renewing my American Express Bonvoy card because it's really easy to come out ahead with the annual fee.





Rooftop Pool & City View
The W in Santiago has quite a few amenities. However, I was mostly interested in the pool that I didn't use. The main attraction for me was the view that the top floor provides of the city. The views are great and if I had more time I would've shot a time-lapse and actually used the pool. If you're going to use the pool, I'd do it during the day as the hotel typically has private events on the 22nd floor where the pool is located. You can still use the pool and go up to the 22nd floor if there are private events but it can be kind of awkward.





La Moneda
The home to Chilean political power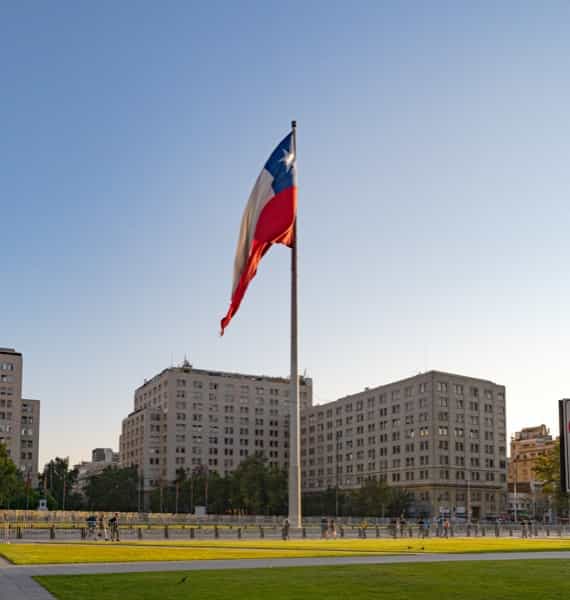 La Moneda
La Moneda is the seat of political power in Chile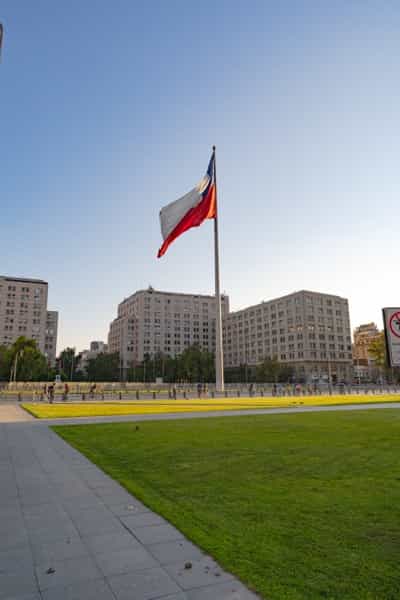 La Moneda Palace
Palacio de La Moneda
La Moneda takes up an entire block in downtown Santiago and it's home to the presidential palace, as well as the general ministry, secretary of interior and secretary to the presidency. An interesting fact about La Moneda: if the flag is flying in the presidential palace with a shield, it means the president is in the building. La Moneda is worth the time and there's an underground parking lot that makes it easy to start exploring.








Chile Desperto
Chile Desperto is the name of the social movement that sparked in Chile out of increased bus fares. The movement is more than about the bus fare but about the inequality that the neoliberal model has brought to Chile. I spoke with Chileans about their dissatisfaction with the economic model of Chile and learned a lot about how the country operates. In essence, everything is privatized. Highways are private and billed by the kilometer, public transportation is largely a private enterprise and essentials like health care are also a for-profit venture. Inna Moll, a Chilean YouTuber made a great video on the conflict. Que esta REALMENTE pasando en Chile?


Chile's Social Movement & Neo-Liberalism
Before arriving in Chile, I spent time on the /r/Chile subreddit and started talking to someone that lives in Punta Arenas. We eventually met up for a beer and talked about the protest, why they're happening and what people want out of this movement. If you've taken a political science course on International Relations, you are aware of the neo-liberal model. The goals of a neo-liberal state is for the state to protect private property and facilitate private commerce. Neoliberalism typically also privatizes public projects, such as highways, health care and education. Chile arrived to a neoliberal model during the Pinochet era. When Agusto Pinochet was in power, Chile's economy was not performing and poverty levels were really high. Pinochet consulted with a group of students out of The University of Chicago. One of those students was Sebastian Piñera, Chile's current president. This group of students became known as the Chicago Boys. They employed a neoliberal model to the country's economy and the country did prosper. Chile is South America's most prosperous country. However, this has led to a lot of inequality in the country and it's a reason for the frustrations of the people. People spend a lot of money on transportation, education and health care. When you drive in Chile, every highway is privatized and you have to pay a fairly expensive toll by the kilometer. Education is also quite expensive and it's something I asked Chileans when I was in Chile. Public education is severely underfunded and university tuition is about as high as a CSU in California. Chileans pay about $4,000 USD in tuition per year.

I heard the following phrase more than a few times: El modelo del neoliberalismo nació en Chile y tiene que morir en Chile. It was very clear to me after talking with Chileans about their dissatisfaction with Chile's economic direction.


The popular phrase about neoliberalism translates to: Neoliberalism was born in Chile and it has to die in Chile.


Experiencing tear-gas was a wild experience that I don't want to repeat. You feel powerless, in pain and focus on reaching cleaner air.




Plaza De Armas & El Centro
Exploring Downtown Santiago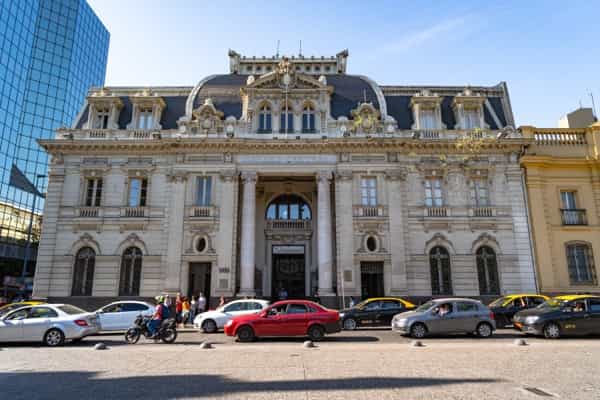 Plaza De Armas & El Centro
Exploring the Downtown of Santiago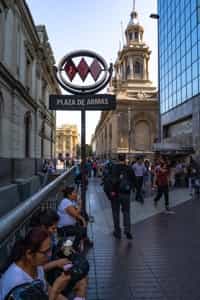 Downtown Santiago
or as it's known in Chile: La Plaza De Armas
Just about every city in the world has a downtown and Santiago is no exception. Downtown Santiago is really nice and there are sections of the street that are blocked off and designated for pedestrians. Starting the day in downtown Santiago is a good idea, as you can walk from downtown to La Moneda. La Moneda is the area where the government has all of its offices for their respective departments or ministries are they call them in Chile. It's about a 15 minute walk from downtown to La Moneda and I suggest you go this route, as there is a lot to see along the way. If the weather isn't optimal, you can always Uber anywhere in Chile and spend very little money.






Santiago Metropolitan Cathedral
I feel like every time I write publicly about religion I start off by saying how I'm not religious but can appreciate aspects of religion and its architecture. While I'm not religious, I always make the effort to go see a temple or cathedral whenever I visit a new country. This Cathedral has been around for 221 years, as of the writing of this post on Feb 2, 2020. Anything that has been around for that long has a story to tell and that's interesting to me.









Cerro San Cristobal
Incredible views but very time consuming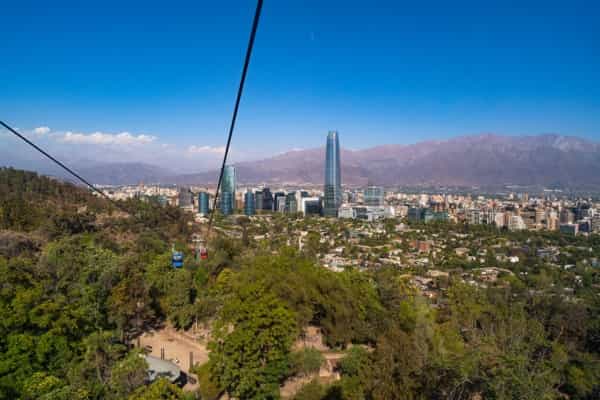 Cerro San Cristobal
Incredible views but very time consuming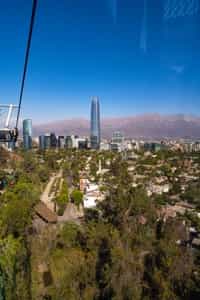 Cerro San Cristobal
Cerro San Cristobal is a popular tourist attraction that provides incredible views. If you have time to spare, visit Cerro San Cristobal. If you're short on time, I'd skip it and visit Cerro Santa Lucia instead. I didn't have the time to visit Cerro Santa Lucia but it looks like it provides great views with a little bit more to do at the top.







Thoughts on Santiago
I loved Santiago. Santiago is clean, modern, economically prosperous and safe. There's good specialty coffee in Santiago that rivals what I have in Santa Cruz or Monterey. The breweries are producing incredible beer and every place takes credit cards and every place takes American Express. Santiago is an important city to South America and that means it's also expensive. This applies to Chile in general but I'll mention it here. Santiago is quite expensive, specially considering that the average income in Santiago is about $800 USD. Overall, as a tourist I loved Santiago and if you're going to Patagonia, dedicate a few days to Santiago if you can.