Designing formatting tools to improve readership metrics
Designing formatting tools at its core was about solving the problem of low answer readership. A big reason students spent very little time in answers was because answers looked very uninteresting. There wasn't any styling to them, it was impossible to add a heading title, a quote or even link to a source. Formatting tools allows professional users to adequately write a detailed answer that is segmented and cited.
Designing an interface that encourages the tagging of content
Adequately categorizing content is incredibly important because we want the best possible answer for our student users. Tagging content is incredibly tedious, time consuming and often causes users to leave the site. The solution that met our objectives was to design an interface that predicts possible tags based on previous information, such as titles and descriptions.
Developing a closer relationship between students and professionals
We wanted to help build relationships between students and the professional users. Questions and answers doesn't really do that because it's entirely a public medium. Career Goals are inherently different because they're private. Having a private medium to share more detailed career goals allows students to foster a closer relationship with our professional users.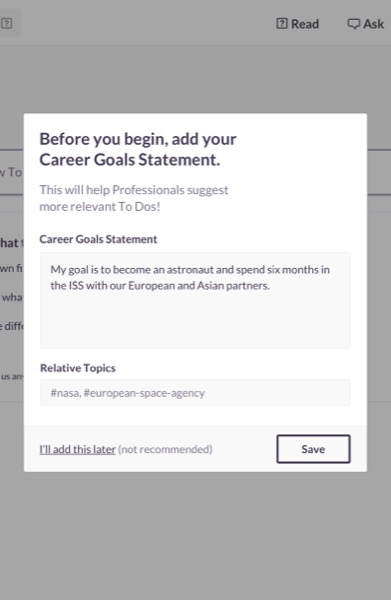 Designing systems to improve the quality of answers
The value of CareerVillage is the answers. Working on systems to improve answers not only gives CareerVillage a competitive advantage, it also serves our users and allows us to stay true to our mission of making career knowledge more accessible. Increasing the quality of the answers posted to the site required designing systems that not only encourage good answers but clearly defined what makes an answer a valuable one to students.