CareerVillage
The mission of CareerVillage is to democratize access to career information. CareerVillage connects students with established professionals and provides guidance. There's currently 2.5 million learners being served and 10,000+ professional volunteers providing guidance to students on the platform.
My role in CareerVillage & Make&Model
During my contracted time at Make&Model, I designed various interfaces to advance the mission of CareerVillage. I designed Career Goals, a feature dedicated to students and professionals. This feature allows students to build their career goals and for professionals to give feedback and guidance on how to achieve those goals. I was also responsible for designing systems to ensure our professional users provide answers that are useful to our students. Formatting tools were an important step in making CareerVillage a more useful platform for students. I designed formatting tools, including ways of gracefully handling user errors. This specially applies to the way people format links. Designing interfaces that gracefully adapted to user error was critical because of the user base using this application.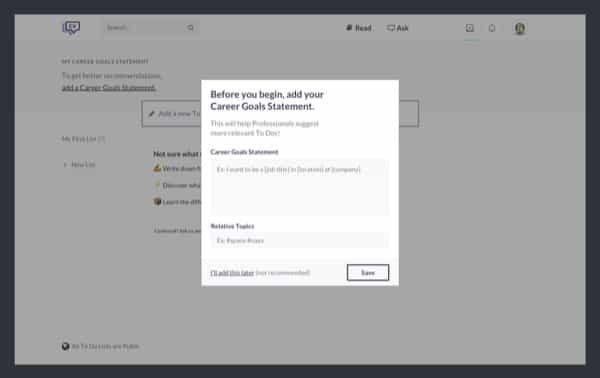 Answering questions is a big part of what makes CareerVillage the platform that it is today. The problem we wanted to solve was making content easier to read. A way to solve this problem is to provide formatting tools. Headings, links and quotes are a part of making a body of text easier to digest and much more useful. I want to briefly mention how we came to the solutions we eventually shipped. Constraints very much influenced the design process here. For one, our user-base is largely kids between the ages of 14-18. This meant that we had to design interfaces that are precise but also gracefully adapt to user error and suggest ways of fixing what is wrong. Our formatting tools are also very conventional because of our user base but also because of engineering and time constraints. It was important to get these features out and tested for effectiveness.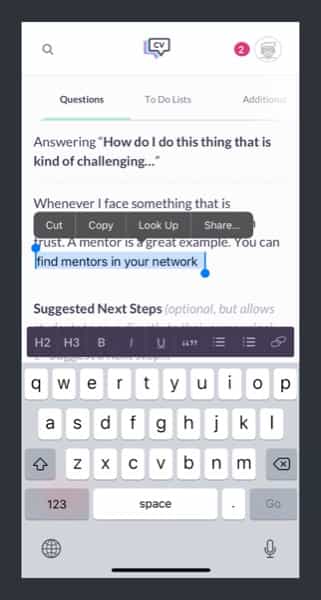 Designing systems to ensure the best advice is posted to CareerVillage
Something that is very important to CareerVillage and to an extent the team is the quality of answers that are posted to the platform. If the quality of answers that are posted are of low quality, the competitive advantage of CareerVillage is diminished and the mission is hindered.
It was important to design a system that ensures the best content is posted. We solved this problem by designing interfaces that encouraged good answers but also clearly defined what makes a great answer. It's really difficult to know as a user if your answer is valuable if it's your first time posting. We also built reward incentives for well written answers, this would promote the answer to the top and give credibility to professionals.
This solution is not for every problem but it is for ours. Posting an answer requires effort and time. It requires of our users to cite, link and write comprehensive answers. There's a reminders mechanism that might seem intrusive but it is to ensure the best answers are posted. We tried to achieve the right balance and so far, its proven to solve the problem.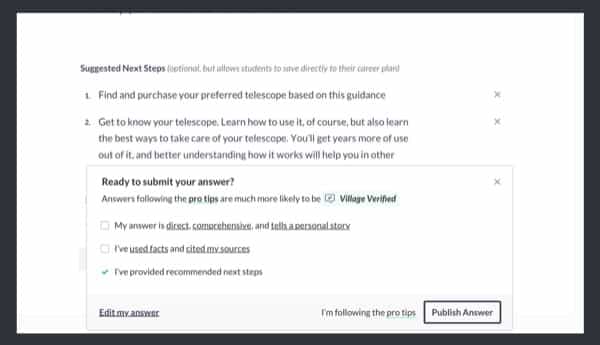 The value of CareerVillage is the answers. However, there are a couple challenges in making this experience a valuable one for both our students and our professional users. For an answer to be valuable and to be executed, the interface needs to communicate authority to our student users. Listing where the professional works is critical to this goal. We achieve this by forcing our professional users to sign up using LinkedIn. This allows us to quickly build a profile that communicates legitimacy. The answers interface will highlight where the professional user works, where they went to school and where they're located.
Creating a question
Creating a question is a core part of the student experience on CareerVillage. Making this process an easy and straightforward experience was very important to the success of CareerVillage. One of the challenges in designing this interface involved gathering important data to adequately categorize questions. Tags were a big part of that challenge. We didn't want to mandate users to write tags because that would be a barrier to posting a question. However, tags were something we needed. The tradeoff was to automate tags and ask users to confirm suggested tags. We would've liked for tags to be automatically added but doing so would require additional time and engineering resources that we simply didn't have.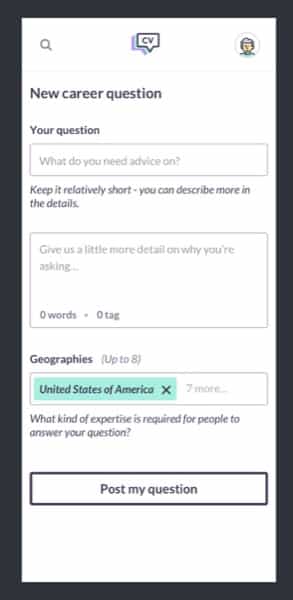 To Dos are a big part of what makes Career Goals the feature that shipped. The goal of this feature is to encourage students to build career goals and create a pathway to that goal. Professionals can guide students on the best path to achieve the stated goal of the student. While the to dos themselves are public, the advice by professionals is kept private.
Pro Answering Career Goal
This is an example of how professionals can provide guidance to students on the To Dos they post. The advice the professionals post to students To Dos are kept private.
Apart from the feed, search is another avenue for discovering career advice. With every solution that was designed, as a team we thought about fallbacks and how our interface would adapt under unknown conditions, be it errors or search queries that returned zero results. In this case, a user might be searching for a question that we don't have results for. Instead of presenting zero results, we designed an interface to make it easy to create a question.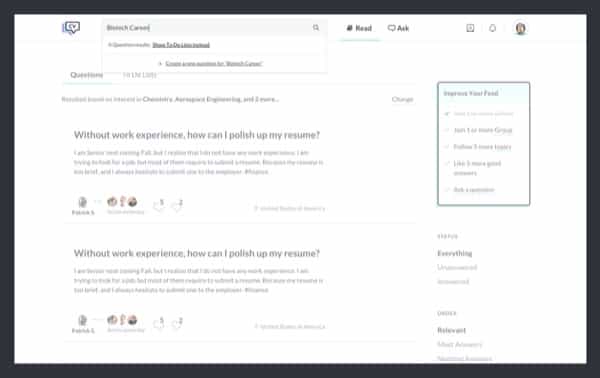 Concluding Thoughts: Working on CareerVillage was incredibly challenging in ways that I've never been challenged before. Designing for the web was challenging because it lacked any sort of design guidelines. iOS and Android have their respective design guidelines and they're incredibly helpful as a designer. As new and challenging as designing web application was, I was lucky to work with another great designer with far more experience than me. I worked along side with Steven Travathan and his insight into patterns used on the web were incredibly helpful.