Singapore Suites
Impecable service, fantastic food and comfortable bed.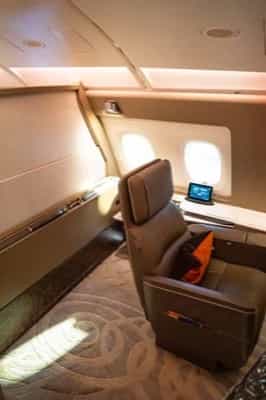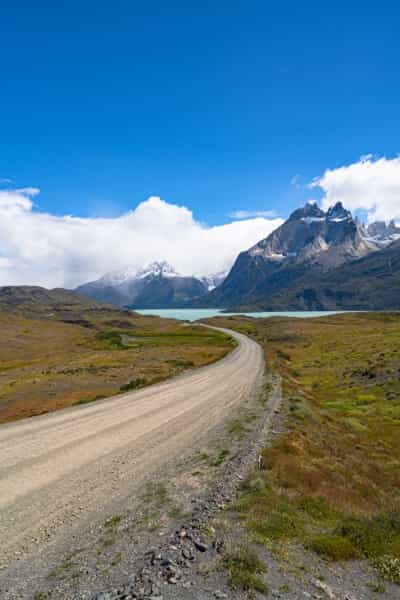 Singapore Suites
Singapore Suites on the A380 is regarded as the very best in first class travel. Flying this was an incredible experience and something very different from business class. I've flown business a lot now and this is different. It truly is a different category of travel. From the start, you have a dedicated lane for check-in. A counter for six people. Singapore Airlines rolls out a jet bridge for the six passengers on Suites. You feel special boarding Singapore Suites. You're then greeted by the wonderful Singapore Airlines crew by name and directed to your seat. As you get seated, you're shown around the cabin. The crew stows your bags in a small closet. They offer drinks before take off and share the menu for dinner service.
Impecable service, fantastic food and comfortable bed
Check in experience & lounge access
Singapore Suites ・ A380 ・ SQ25
The check-in experience was pretty standard for Terminal 4 at JFK. I'd expect something more special at Singapore Changi Airport but this experience was more than adequate. I will mention that the check-in desk was staffed at 3PM, six hours before departure. This is important because I am not from the NYC area. I took a Delta flight from SFO to JFK, specifically to fly this product. It was nice to be able to get a boarding pass and make my way to the lounge.

When flying business or first, lounge access is included in your boarding pass. Singapore Airlines works with Virgin Atlantic to provide lounge access to its first and business class passengers. I've been to the Virgin Atlantic lounge on a different occasion and it's a decent lounge, stocked with all of the amenities you'd expect, including shower suites. A note on the Virgin Atlantic lounge: you can access the lounge regardless of flight class with your American Express Platinum Card or Centurion Card.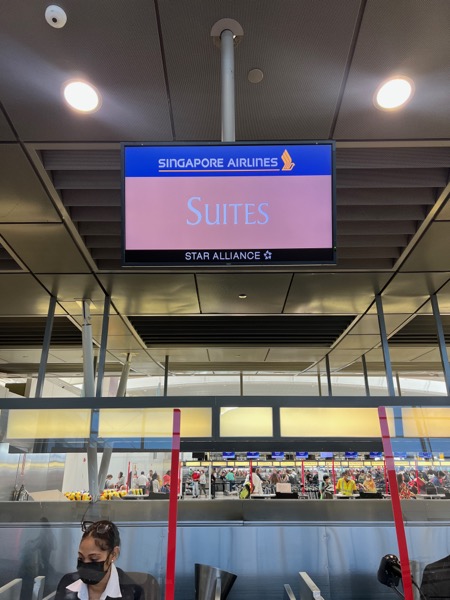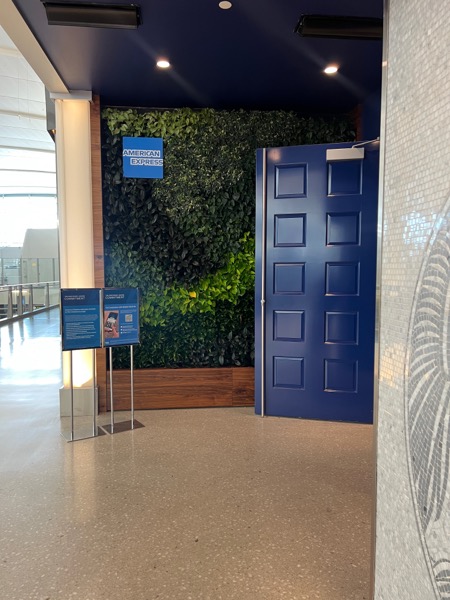 The Centurion Lounge
I spent a handful of hours at the Centurion Lounge at JFK before my flight. The lounge is big, and while it was crowded there was always a place to sit. I opted for the Centurion Lounge, instead of the Virgin Atlantic lounge because of the Speakeasy bar that is located on the 1st floor of the lounge. I had a few cocktails at the Speakeasy lounge, including the signature cocktail, the espresso martini. Their mojitos were also superb and the staff was excellent.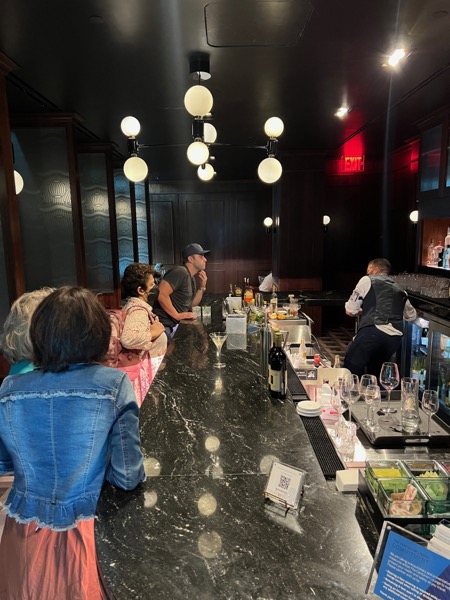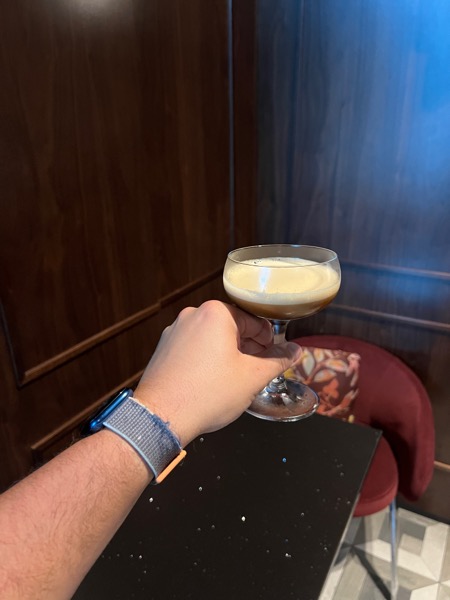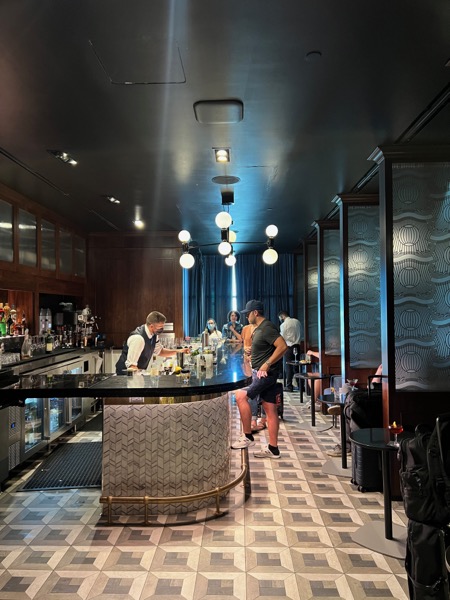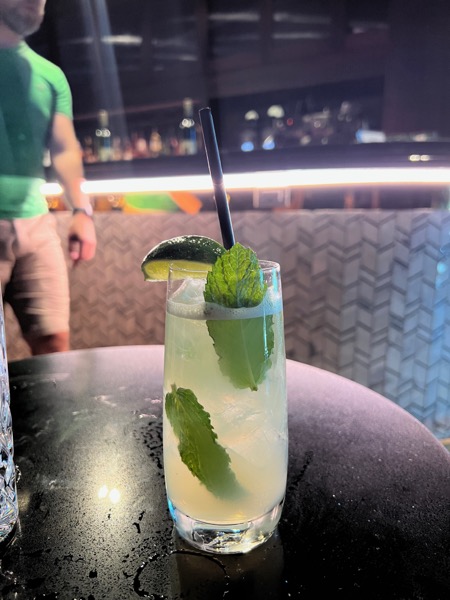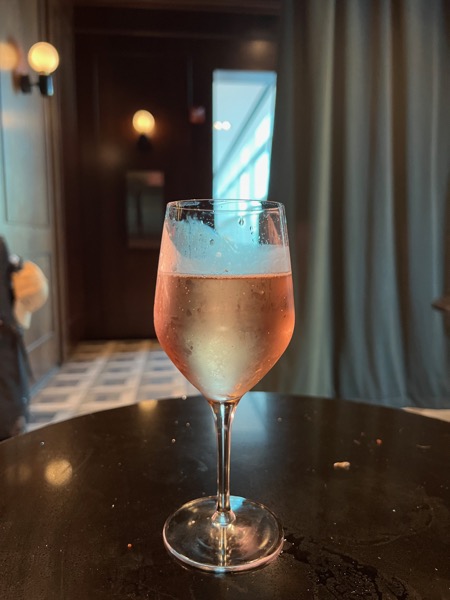 Showering before the big flight
The pinnacle of lounge access has to be the shower suites. I requested to take a shower an hour prior to boarding my flight. To gain access to the shower you must speak to someone at a Member Service desk. If there is a queue, you'll be placed in line and later directed to your shower suite when it's your turn.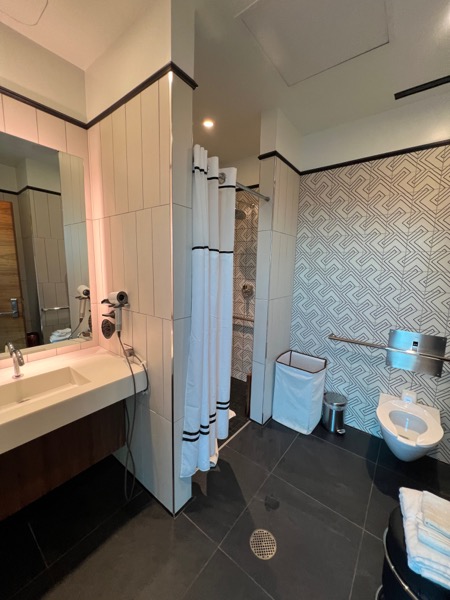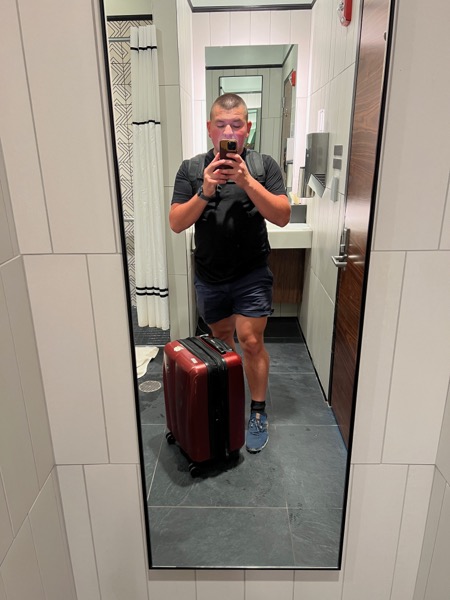 Singapore Suites
My review of Singapore Suites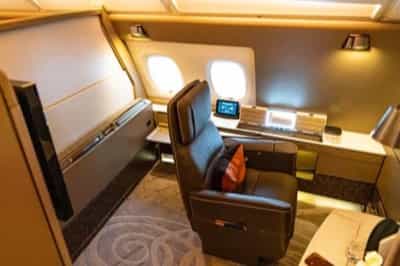 Singapore Suites
My review of Singapore Suites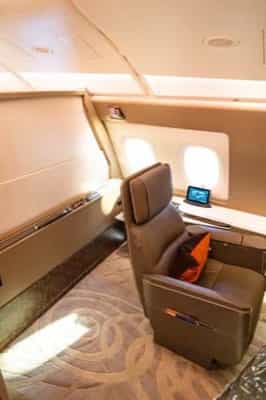 Stories
Follow me on Instagram: @ricardo_del_toro
SQ25, JFK ✈ FRA
Boarding Singapore Suites
Boarding Singapore Suites is an experience in itself. There's a dedicated jet bridge for six passengers. It's truly a special kind of experience and puts it in another class from business class.
SQ25, JFK ✈ FRA
Suites are on the upper deck
Singapore Suites consists of six suites that are on the upper deck of the A380.
SQ25, JFK ✈ FRA
Suites are in a category of its own
Singapore Suites are in their own category. It's fair to put it next to the Ethihad Residence, because in many ways it's a lot like the Residence.
SQ25, JFK ✈ FRA
Restroom is massive
After you explore your suite and the smiles start to normalize, you make your way to the restroom to start this incredible experience all over again. The restroom is massive and unlike anything else I've flown before.
The Suite
The Suite is a unique product and one that really only compares to the Etihad Residence. There are other airlines delivering first class products but not like Singapore Airlines. Airlines like Emirates and Qatar Airways have fantastic first class products that feature showers, in the case of Emirates but they're still limited to the concept of a seat. The Suite is a very private experience and one that can be shared with a significant other.

Singapore Airlines also delivers a world class experience when it comes to catering and service. The food that is served in first class is fresh and is something that would be served at a nice restaurant. The Wall St Journal recently did a piece on the way Singapore Airlines sources its fish for its first class passengers. YouTube: How Singapore Airlines Now Serves Fresh Fish on the World's Longest Flight | WSJ

The fresh and delicious food, coupled with incredible service makes for a flight worth remembering. I don't say this lightly and I have flown a lot of airlines now. I can comfortably say that Singapore Airlines is the best airline that I have ever flown.

Important note on my mention of the Etihad Residence. Tony Douglas, CEO of Etihad Airways said to The National, an Abu Dhabi newspaper "We have now taken the strategic decision to park the A380s, I'm sure it's very likely that we won't see them operating with Etihad again."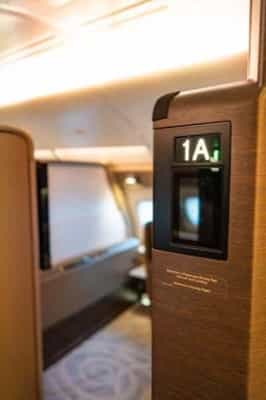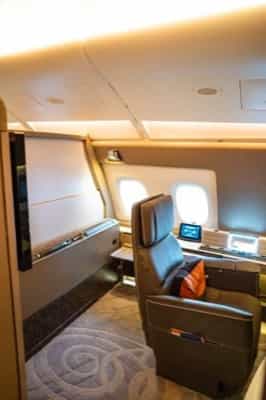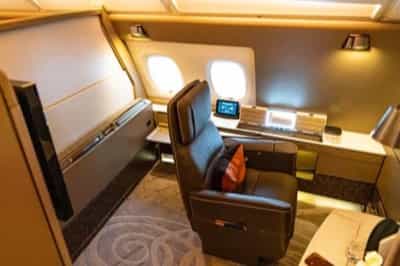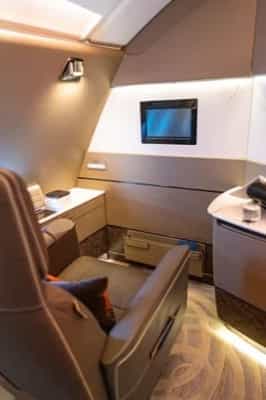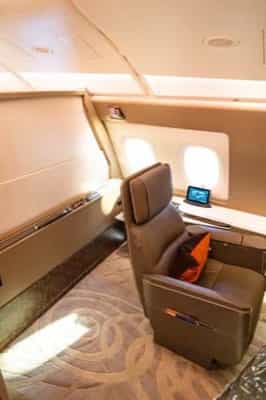 Meal Service
Starting off with champagne
Meal service on my flight to Frankfurt started about 30 minutes after take-off. The incredible stewardess came by my suite and explained the beverage options. I wanted to start off with champagne and there were two options: Krug and Comptes de Champagne from 2008. The vintage of the Krug was never mentioned but it must've been in the 2007/2009 range because it was very punchy, much like the Comptes.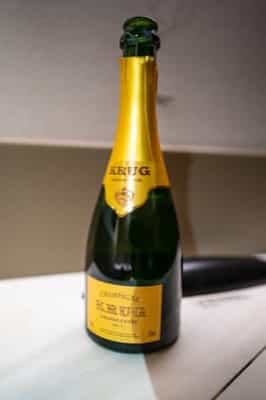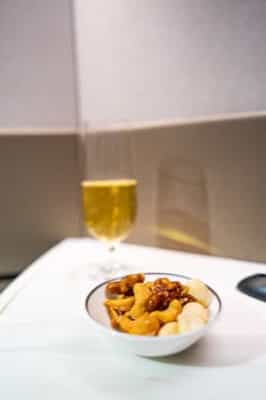 Caviar
Appetizers: Caviar, smoked salmon & tomato soup
The start of my meal was introduced with three appetizers: caviar, smoked salmon and a phenomenal tomato soup. This was my first time trying caviar and I must admit that I was underwhelmed. I don't think I had too many expectations but perhaps I did, given how many people go to the moon to tell you about caviar. Caviar was not bad but I would never buy it. There were taste notes of the ocean and that's what it is. You're tasting the ocean. The problem is that the ocean is a bit salty and not special, at least to my palette.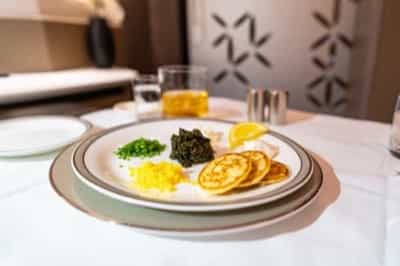 Blue Label Whiskey and Vodka
As my flight attendant introduced me to the caviar dish, she asked if I wanted Blue Label Whiskey to go with the caviar. I didn't hesitate and of course said yes. I felt the same way about the vodka. The whiskey was great, but I won't go further because I don't have a lot of experience with whiskey the way I do with wine. I was not a fan of the vodka but this isn't the fault of the staff or the airline, it's me. It was simply too much for me and I wanted to be sober in Frankfurt.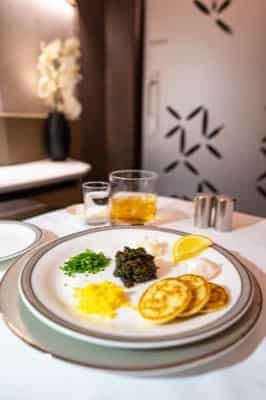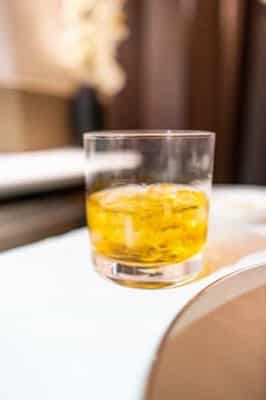 Smoked salmon
Appetizers: Caviar, smoked salmon & tomato soup
The smoked salmon was very good, fresh, alongside a delicious glass of champagne. I was a fan of the salmon.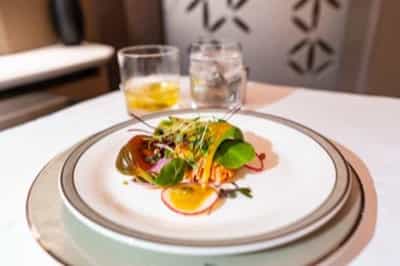 Yellow tomato soup with mozzarella cheese
Appetizers: Caviar, smoked salmon & tomato soup
The star of the night had to be the yellow tomato soup with mozzarella cheese. I like tomatoes but I'm not in love with them. This however was superb, it had to be the best soup I've ever had. The soup was full of flavor and the mozzarella made it the best soup I've ever had.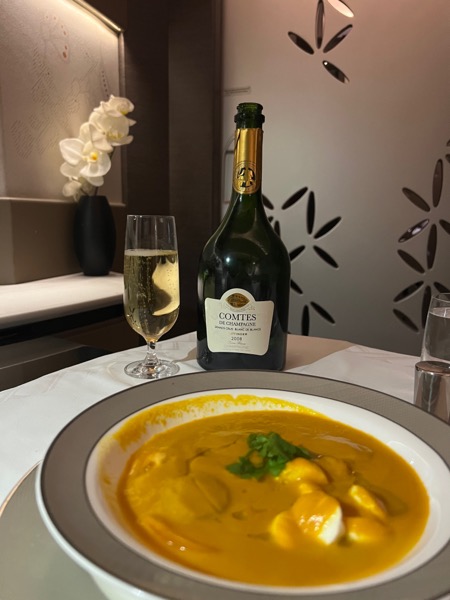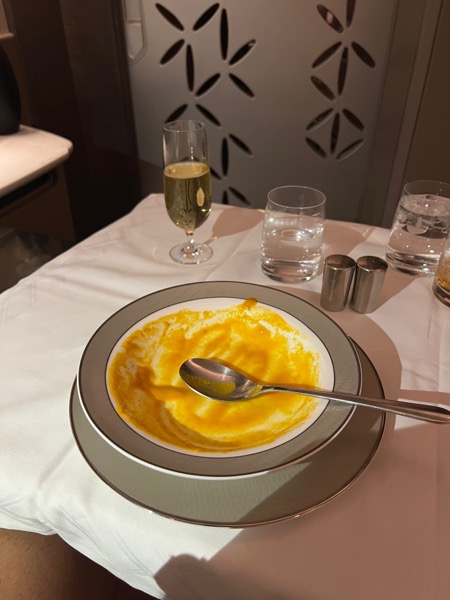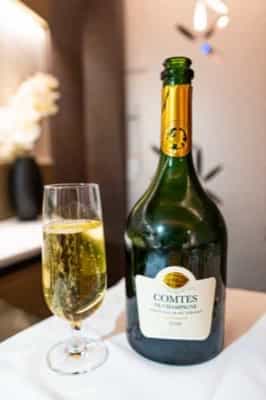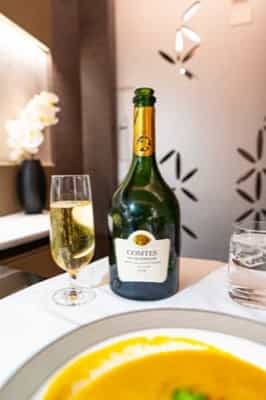 Roasted duck
Main course
Singapore Airlines offers Book the Cook, a service that allows passengers to pick their meal in advance. I didn't go this route on this flight but I did on my return flight in business class. I wanted to see what the standard offerings were like and I was not disappointed. I went with the roasted duck and it was incredible. The duck itself was incredibly soft, yet crispy on the outside. The sauce on top of the duck was sweet, but not overpowering. A great combo, along with a side of rice. Overall, it was a great main course and if I had this in a restaurant, I would be satisfied.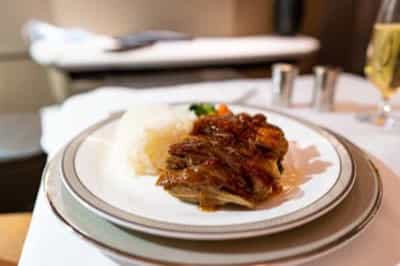 Dessert
The choices for dessert were pistachio cake and ice cream with what appeared like a cookie. Both were great, and I say both were great because I had both of them. The stewardess presented both options and said I could have both, so I did. The cake was good but a little dry for my liking. I preferred the other dessert, as the ice cream was delicious and paired well with the cookie.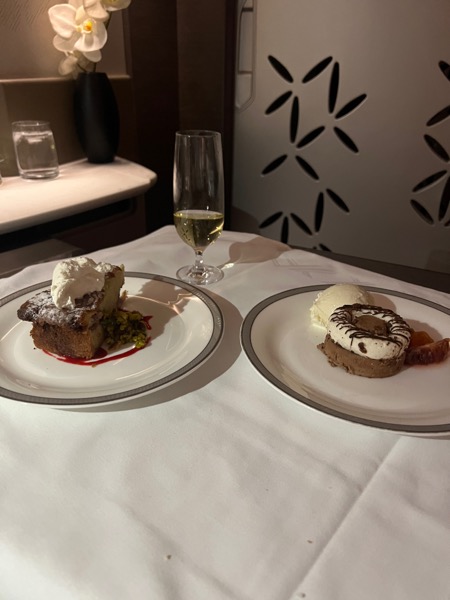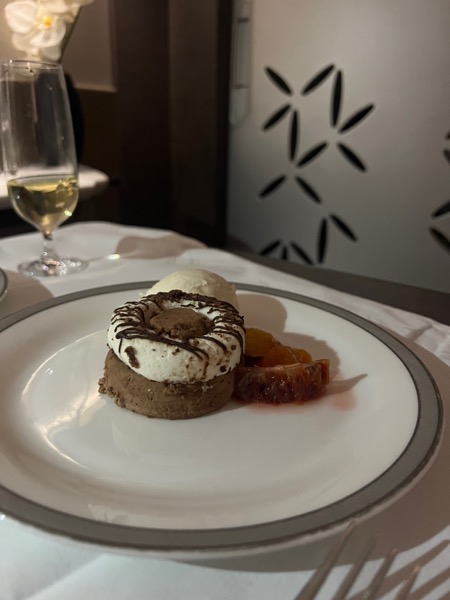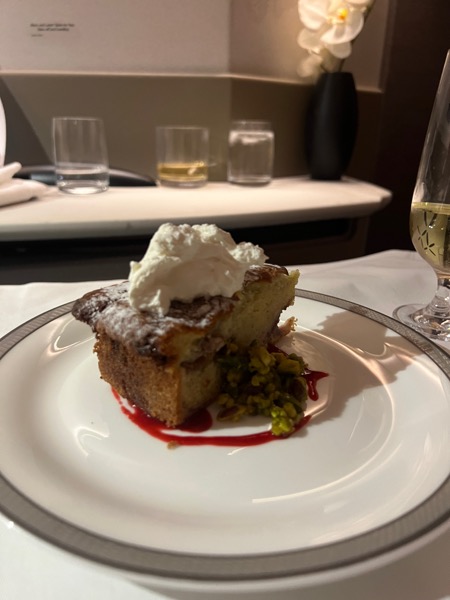 Bed Mode
The full size bed on Singapore Suites is exactly what it sounds like. I have flown business class numerous times and business class is great. Business class provides a seat that folds into a bed and makes for a great flight where sleep is possible. However, when you're flying business class you always wish the seat was a little taller or wider. The bed in Singapore Suites delivers on those wishes. The bed itself is more comfortable than any business class seat I have ever flown and it's wide enough that sleep is possible. The bed on Singapore Suites is as good as everyone says it is.

A few thoughts on the IFE: it's good. It's what you find in business class but with a much larger screen. I didn't spend any time using it because I wanted to get some rest after the very large meal I had.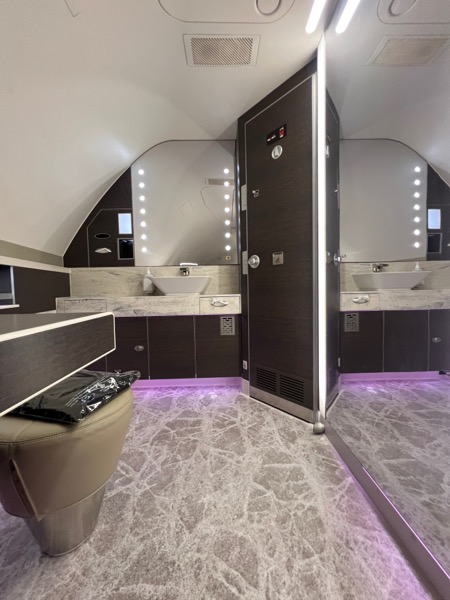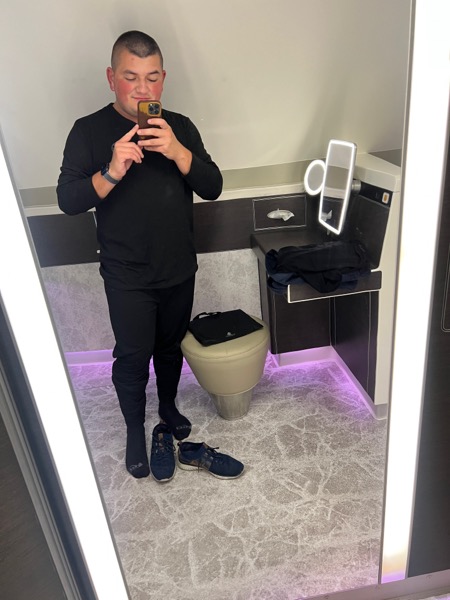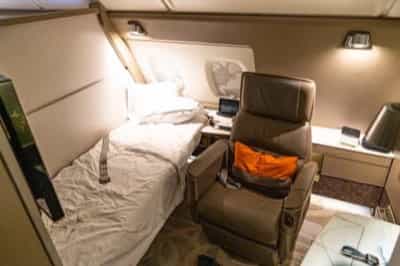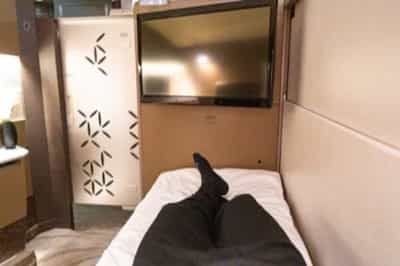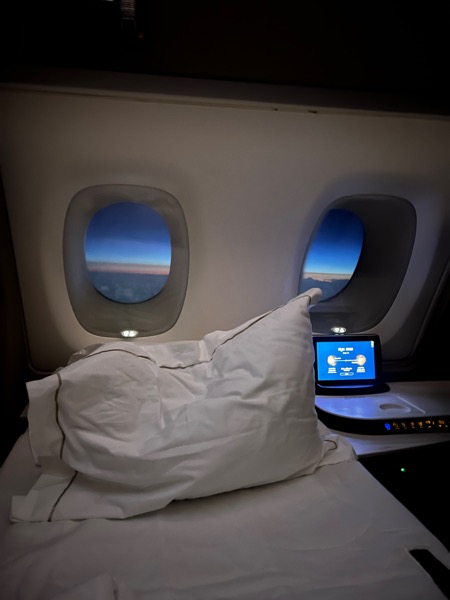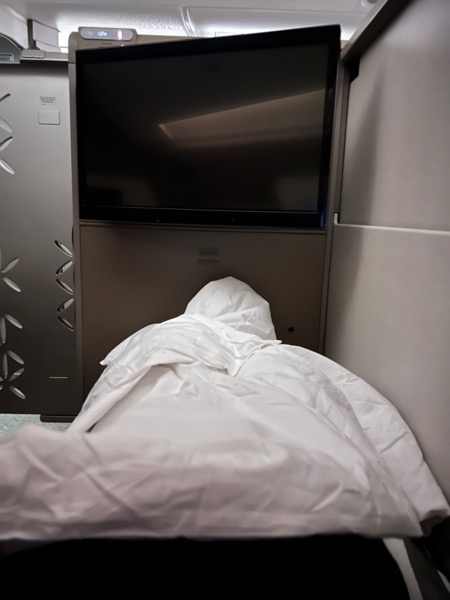 Closing thoughts on Singapore Suites
The Suite is a very special product that puts a smile on your face the entire flight. Few flights can do that, but The Suite does. The service is a huge component in accomplishing this feeling. The boarding process is the first thing passengers experience and it's special. Singapore Airlines allocates one jet bridge for six passengers. Think about the energy and cost that goes into moving a jet bridge. As you step foot on the plane, the staff knows your name and walks you to your suite.

The meal service is another aspect of how service in this cabin makes for an excellent experience. The service is that of a nice restaurant and there's clearly a lot of effort and consideration that is put into this experience.

Of course, we cannot ignore the suite itself. I grew up flying economy cabins and didn't start flying business and first until I turned 24. Walking into the suite is an experience. You see a leather chair, surrounded by space to move around and experience the space. The key word is space. There's a lot of room and nothing feels cramped. Sitting down and experiencing the world class service that Singapore Airlines delivers on only adds to The Suite experience.

As the high of The Suite starts to come down and you get ready for bed, you make your way into the restroom to start that feeling again. The restroom is massive, in fact, everything about The Suite is so big that you need to clarify to people that it's not the lounge in the airport.

If you have the opportunity to fly this product, do it. You won't regret it. I spent 150,000 KrisFlyer miles and I don't look back. 150,000 KrisFlyer miles is a lot of miles for First Class but it was peak season. To put things into perspective, Lufthansa First Class runs about 100,000 AeroPlan miles and it's a much older product. I think it's fair, even at 150,000 KrisFlyer miles.